Our family friends sent us few yellow cucumbers aka dosakaya grown in their farm. Decided to put them to good use by pickling 2 large cucumbers (Dosavakaya recipe) while a small sized cucumber made itself available for a wonderful pappu kura.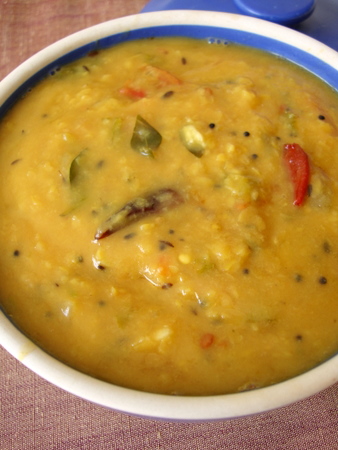 Dosakaya Pappu
A good way to show affection to loved ones is serving them a comforting dal dish that has dosakaya in it. A classic Andhra pappu kura that is packed with nutrition with an irresistable flavor. One of my favorite high protein dish!
Yellow Cucumber, Dosakaya
Dosakaya Pappu Recipe
Preparation: 30 mts
Serves 4-5 persons
Cuisine: Andhra
.
Ingredients:
1 cup tur dal/red gram dal/kandi pappu
1 1/2 cubed dosakaya/yellow cucumber
1 onion, chopped
1 tomato, chopped (optional)
big pinch turmeric pwd
2-3 green chillis, slit lengthwise
1/2 tsp chopped ginger
salt to taste
2 cups water
For seasoning/poppu/tadka:
1 tsp mustard seeds
1/2 tsp cumin seeds
3-4 garlic cloves, crushed
2 dry red chillis, de-seed and tear
10-12 fresh curry leaves
2 tsps oil
1 In a pressure cooker, place dal, cubed dosakaya mukkalu, onions, tomatoes, green chillis, ginger and turmeric pwd. Add 2 cups of water and pressure cook upto 3 whistles. If cooking over stove top, cook till the dal is almost cooked.
2 Heat oil in a heavy bottomed vessel, add mustards seeds and as they jump around, add cumin seeds, garlic, red chillis and curry leaves and stir fry for a few seconds.
3 Add this to the pressure cooked dal and combine. Cook on slow to medium flame for a few mts till you get the consistency of your choice.
4 Serve with white rice.