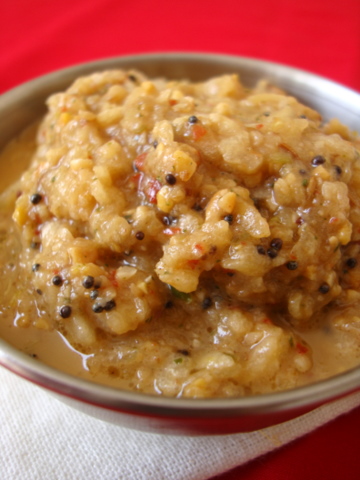 Dosakaya Pachadi
Lemon Cucumber aka Dosakaya is a cherished vegetable in Andhra cuisine. Pachadi (Chutney), Pappu (Dal) and Avakai (Pickle) are the common preparations. I have blogged a pickle recipe as well as a pappu recipe using Dosakaya. Armed with firm, farm fresh Dosakaya, we prepared a tangy spicy pachadi that makes for a memorable side with rice and a dollop of ghee.
Dosakaya Pachadi Recipe
Preparation: 15-18 mts
Serves 3-4 persons
Cuisine: Andhra
.
Ingredients:
1 1/2 cup dosakaya/lemon cucumber, remove the inside seeds and cube
1 tbsp senaga pappu/bengal gram
1 tbsp minappa pappu/urad dal/split gram dal
1 tsp cumin seeds/jeera/jeelakara
1-2 green chillis
2 dry red chillis (increase or decrease to suit your spice level)
4-5 curry leaves
salt to taste
1 1/2 tbsps tamarind paste
1/2 tbsp oil
For tempering/poppu/tadka:
1/2 tsp mustard seeds
3-4 fresh curry leaves
1/2 tsp split black gram/minappa pappu
1/4 tsp hing/asafoetida/inguva
1 tsp oil
1 Heat oil in a pan, add bengal gram and split gram dal and cumin seeds and saute for 4 mts on low-medium heat or till they turn golden brown. Add curry leaves, green chillis and red chillis and fry for another mt. Remove from pan and cool.
2 First grind the spices to a coarse powder. Add tamarind paste and blend once more. Add the dosakaya pieces and salt and grind to a coarse paste. The cucumber should not be made into a paste. A stone mortar is recommended to crush them but you can use a blender too.
3 Heat oil in a small pan, add the mustard seeds and let them pop. Add the split black gram and let it turn red. Add the curry leaves and hing and toss them for a few seconds till the flavors come out.
4 Turn off heat and add the seasoning to the ground dosakaya pachadi and combine. Serve with hot steamed rice and ghee.