As long as there's lots of peanuts, this Ivy gourd stir fry recipe is a winner. A classic vegetarian dish served on special occasions as part of an elaborate Andhra thali. The key to this recipe is deep frying tindora slices before sauteing them in a tempering of spices, curry leaves and onions and finishing off with a good dose of roasted peanuts. Fried dondakaya has a nice crispy crust and a mildly spiced flavor that is irresistible.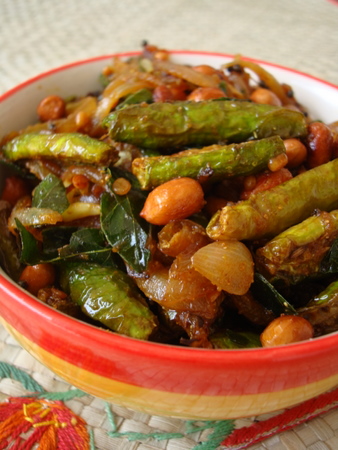 Dondakaya Verusenaga Pappu Vepudu ~ Ivy Gourd Peanut Stir Fry Recipe
Prep: 30 mts
Serves: 4 persons
Cuisine: Andhra
.
Ingredients:
250 gms /1/4 kg Dondakayalu/Tendli/Ivy Gourds
1/4 cup roasted peanuts
1 tsp mustard seeds
1 tsp split black gram dal/minapa pappu
15-18 curry leaves
1 large onion, sliced
1 tsp red chilli powder
1/2 tsp saunf powder
pinch of coriander powder
salt to taste
1/2 tbsp oil
oil for deep frying
1 Wash the Ivy gourds, nip the tip and tail ends. Slice each into 2, length wise and keep aside.
2 Heat enough oil for deep frying in a vessel, once hot, place the dondakaya pieces into the oil and deep fry till lightly golden in color. Drain and keep aside.
3 Heat a tbsp of oil in a cooking vessel, add the mustard seeds and let them splutter. Add urad dal and allow it to turn red. Add curry leaves and fry for a few seconds till the aroma emanates the kitchen.
4 Add the sliced onions and mix. Add turmeric pwd and mix well. Saute on medium heat for 5-6 minutes, keep sauteing so that it doesn't burn.
5 Add red chilli pwd, coriander pwd, saunf pwd and salt and mix. Add the deep fried dondakaya pieces and saute. Add the roasted peanuts and mix. Cook on low-medium flame for 6-7 mts without lid. Turn off heat.
6 Serve warm with steamed rice.