Indian Ivy Gourd is a widely consumed vegetable, available in India through out the year. Called Dondakaya (Telugu) or Tindora/Tondli (Hindi), these cute looking small, stubby, green colored vegetables which grow aggressively on vines are used to prepare delicious stuffed curries, stews, pickles, salads and stir fries.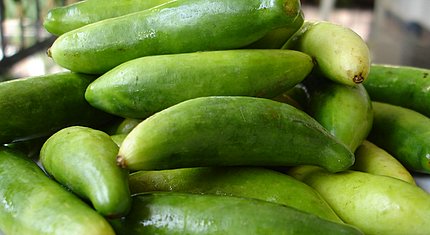 To many, dondakaya is an unusual vegetable, not very common, unlike in our parts of India where its pretty popular. You will find extremities with regard to the popularity of dondakaya, where one either hates this vegetable or just loves it. I, for one love this vegetable and prepare it regularly at home and why not, its available in abundance, fresh, cheap, healthy and tasty.
I have looked up the internet and came up with the common names by which Ivy Gourds are known in other languages as well as some interesting information about this vegetable.
Scientific Name- "Coccinia Grandis",
Ivy Gourd, Gentleman's Toes (English)
Dondakaya, Dondakai (Telugu)
Tondakayi (Kannada)
Vargoli (Hindi)
Tindora, Ghiloda (Gujarati)
Tondli, Tendli (Marathi)
Kovakkai (Malayalam)
Kovaikai (Tamil)
Goli (Rajasthani)
Kundru (Utter Pradesh)
Dondakaya or Tondli is a small oblong shaped, smooth skinned, light green to dark green shade, abundantly available Indian vegetable
Has a mild sour flavor with a crunchy juicy texture
Has medicinal value and used widely in Traditional Thai and Ayurvedic Medicine
Contains beta-carotene and a good source of protein and fiber
Medical Research suggests that gherkins may suppress the activity of certain enzymes involved in glucose production, such as G-6-phosphatase and helps control diabetes
In Andhra, ivy gourds are abundantly available and, Dondakaya Vepudu (stir fry dish) and Gutti Dondakaya Kura ( a stuffed dish) are popular preparations, of course this humble looking vegetable is cooked along with other vegetables to prepare stews like avial etc.
There are many variations to the dondakaya fry, depending on the region its being prepared.Today's recipe is Dondakaya Vepudu, a popular Andhra style preparation, where the finely sliced gherkins are infused with a tempering of fresh curry leaves and mustard seeds and stir fried in a coarse powder of roasted dry red chillis, cumin seeds and peanuts.
This stir-fry recipe is simple, though the preparation part of slicing the gherkins is time-consuming, but worth the effort. The dondakaya stir-fry has a nice crunchy texture with a mild spice-sweet nutty flavor due to the red chillis and peanuts and goes well with steamed white rice.