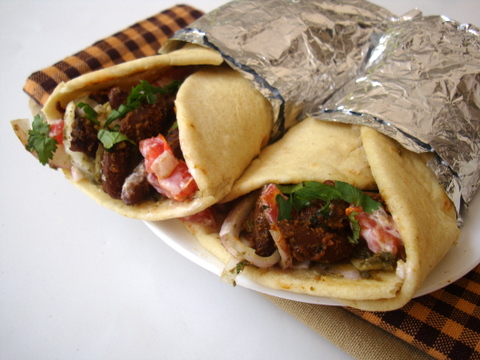 Curried Kidney Bean Wrap
Wonderful summer time wrap that is super simple to bring together. Light yet filling meal. Pack your child's lunch box with these protein rich wraps or cut them and serve as appetizers at a party.
Curried Kidney Bean Wrap Recipe
Prep & Cooking: 40 mts
Makes 6-7 rolls
.
Ingredients:
For wrap:
1 cup whole wheat flour/atta
3/4 cup maida/all purpose flour
pinch of baking pwd
1/2 tsp salt
water to knead the dough
For kidney bean filling:
1 1/2 cups cooked black beans or rajma/kidney beans
1/2 tsp ginger-green chilli paste
1/2 tsp red chilli pwd (adjust)
1/2 tsp coriander pwd
pinch of cumin pwd
pinch of garam masala pwd
1 tbsp tomato ketchup
pinch of kasuri methi
1 tsp fresh cream or malai (optional)
salt to taste
2-3 tsps oil
chopped coriander leaves
Spread 1:
1/2 cup hung yogurt
chopped cucumber
chopped tomato
salt to taste
Spread 2:
2 onions, finely sliced
few tbsps green chutney
1 Add salt to the wheat flour and maida, combine, slowly add water to form a soft yet slightly firm dough. Cover and let it rest till you get the stuffing ready.
2 Heat oil in a vessel, add ginger green chilli paste and stir fry for few secs. Add the chilli pwd, coriander pwd, garam masala and salt and a tbsp of water. Add tomato ketchup and combine. Add cooked beans and few tbsps of water cook on low flame for 8-10 mts or till the water evaporates. Add kasuri methi and malai and combine well. Add chopped coriander leaves and turn off heat.
3 In a bowl, combine hung yogurt, salt and chopped tomato and cucumber and keep aside.
4 In a bowl, combine the raw sliced onions with few tbsps of green chutney and keep aside.
5 To prepare rotis, pinch a large lemon sized ball of dough, dust the working surface with some atta and roll out the stuffed dough to form 6″-7″ diameter circles.
6 Heat a iron tawa and once its hot, place a roti and let it cook lightly on both sides. Prepare all the rotis and place them in a casserole to keep soft.
7 At the time of serving, place a roti on a plate, spoon 1 1/2 tbsps of yogurt-tomato mixture, followed by the onion-green chutney mixture. Next, spoon the curried beans, sprinkle coriander leaves, finish off with a dash of lemon juice and roll the roti tightly to form a wrap. Wrap the lower part of the wrap in butter paper, aluminum foil or tissue.