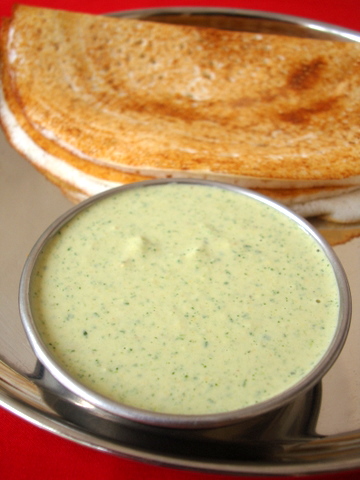 Fresh coriander is hard to come by during summer and when available, its exorbitantly priced. My vegetable vendor who supplies fresh vegetables, grown in his small farm, brought 2 bunches of fresh coriander. Delighted, I put my favorite herb to use by way of an easy breezy chutney to go with our morning breakfast, Dosa. Makes for a wonderful side with tiffins like dosas and idlis.
Coriander Roasted Dal Chutney Recipe
Prep & Cooking: 10 mts
.
Ingredients:
1 1/4 cups chopped fresh coriander leaves, packed
2 green chillis (slit lengthwise)
2 tbsps roasted channa dal/bhuna chana/dalia
2 tbsps grated coconut
salt to taste
2 tsps oil
1 Heat oil in a vessel, add green chillis and saute for a mt. Remove from vessel and keep aside. In the same vessel add the coriander leaves and saute for 3-4 mts. Remove from heat and cool.
2 Grind the roasted chana dal, coriander leaves, green chillis, coconut and salt to a paste, adding little water. Remove onto a serving bowl and serve with tiffins like Dosa or Idli.