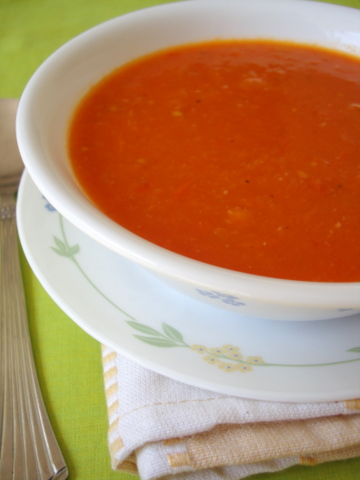 Chunky Tomato Soup
A vibrant, hearty, soothing, chunky tomato soup to brighten up the rainy season! The key to a delicious tomato soup is in roasting the tomatoes. Use herbs of your choice. My favorite herb is fresh coriander leaves and I like a chunky tomato soup.
Tomato Soup Recipe
Prep & Cooking: 30 mts
Serves 3 persons
.
Ingredients:
4 tomatoes, apply oil and roast over fire, peel the skin, crush lightly
1 onion, sliced
2-3 garlic cloves, crushed
1 clove
1/2″ cinnamon stick
1/4 tsp black pepper pwd or red chili flakes
very small pinch nutmeg pwd
1 tbsp fresh coriander OR fresh mint leaves OR dried herbs of your choice
1 tsp grated jaggery or brown sugar
salt to taste
1 tbsp butter (optional)
1 tbsp olive oil
1 Heat oil and butter (optional) in a vessel, add the cinnamon, clove, onions and garlic and saute for 3 mts. Cool and blend to a paste.
2 Add the crushed tomato to the onion paste and saute for a mt. Add three cups of water, coriander leaves or dried herbs, nutmeg pwd, black pepper pwd and jaggery and let it simmer on low-medium heat for 25-30 mts or till it thickens slightly.
3Keep stirring once in a while while the soup is simmering. [You can blend the cooled tomato soup and simmer for 2 mts for a smooth soup]. I like the soup chunky hence, I have not blended the tomatoes.
4 Serve hot with croutons or garnish with fresh cream.
Note:
On a baking tray, place halved tomatoes, sprinkle herbs of your choice, 2-3 crushed garlic, drizzle olive oil over them and broil for 15 mts. Peel the tomatoes and lightly crush them. OR Prick the tomato with a fork and hold it over the fire and roast it all over till charred. Cool, peel and crush.