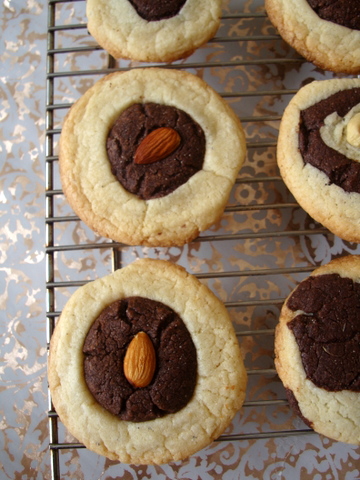 Chocolate Nankhatai
'Mama, can you make chocolate cookies?', asked my son as he walked out of the front door yesterday morning.
'But you hardly ate any when I last made them!'
'No, I like them. My friend gave me a chocolate cookie in school and it was very tasty. Please make the same ones for me also, Mama?' he pleaded.
I smiled and assured him that he'd have his chocolate cookies once he's back from school in the afternoon. He gave me a tight hug and off he went to school. After cooking lunch, I got down to baking Chocolate Nankhatai. Its the first time I added cocoa powder to Nankhatai dough and must say that they turned out exceptionally well. My son loved them and so did we adults. 🙂
Chocolate Nankhatai Recipe
Preparation: 10 mts, Baking: 20-22 mts
Makes approx 18-20 cookies
.
Ingredients:
2 cups all purpose flour (maida)
1/4 cup semolina/sooji
1 tbsp cocoa pwd
1/4 tsp baking soda
1/2 tsp vanilla essence
1 1/4 cups powdered sugar
3/4 cup ghee or melted butter or oil
2 tbsps yogurt/curd
1 Sieve maida and baking soda.
2 Blend the sugar, ghee, vanilla essence and yogurt till smooth. Its important you really combine well. Add the sieved ingredients and semolina to the sugar-ghee mixture. The dough should be kneaded well for at least 7-8 mts. If the dough is not stiff enough to roll out into balls, add a few tbsps of cold milk and chill for a few minutes. Divide into two parts.
3 Take one part of the dough and add cocoa pwd and knead till its well combined, add a little milk if required. Make small balls of this dough. Keep aside.
4 Pinch dough of the remaining dough and shape into small balls and roll each of them it into a thick cylindrical shape (snake shape).
5 Now place a cocoa flavored ball on the surface. Along the edges of this cocoa colored ball, roll the cylindrical shaped white dough and gently flatten.
6 Garnish with almonds or pista or cashews on top of each flattened ball by slightly pressing into the dough. Place on a greased tray with enough space between each ball as they spread out. Pre heat oven for 15 mts, bake at 180 C for about 20-22 mts. Once baked, the cookie will feel soft on touch. Remove from oven and cool and the cookies will harden.
7 Cool on a wire rack and store in airtight container.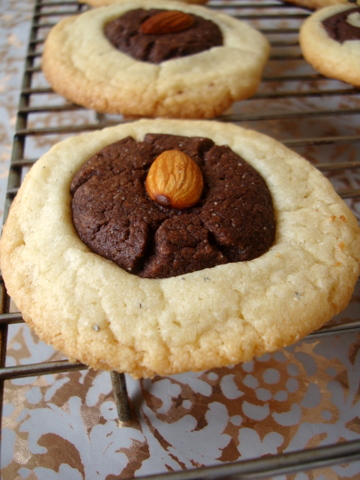 Chocolate Nankhatai