Chilli mushroom recipe, a restaurant style Indian Chinese mushroom starter that's crisp with sweet, sour and spicy flavors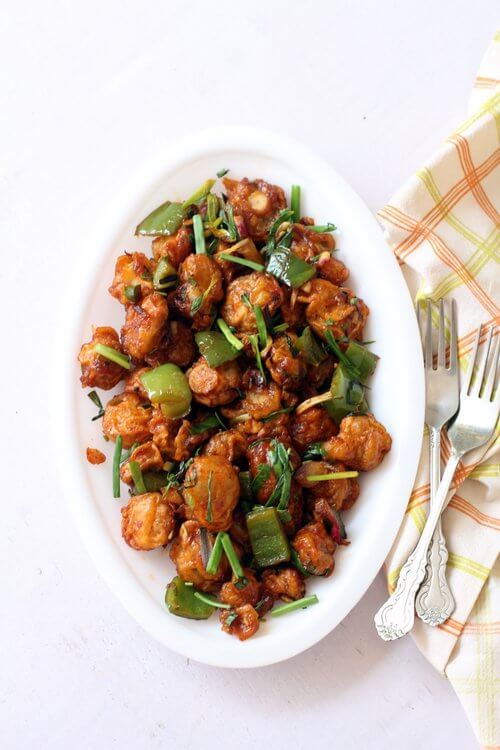 chilli mushroom
Chilli mushroom is pure comfort food and I am sure you are going to love this Indian Chinese mushroom starter. It has many flavors and textures bursting in each bite, making it an addictive mushroom appetizer. Sometimes, when we eat out at our favorite restaurant its tough to decide which appetizer to order since there are so many favorites. My son is very sure of what he wants to order and one of them will surely be a 'mushroom' based Indian dish, either mushroom pepper fry, mushroom manchurian, chilli mushroom or mushroom momos. Does it happen with you too? 🙂
Paired with vegetable fried rice or mushroom fried rice, noodles with sweet and sour vegetables and sweet corn vegetable soup, chilli mushrooms make for a nice dinner. I love to cook Indian Chinese food at home since its our family's favorite fusion food. I can confidently say that and I have mastered cooking restaurant style Indo Chinese recipes over the years. Sometimes its hard to beat the flavors of Indo Chinese food served at quality restaurants but then nothing beats whipping it up fresh in your own kitchen.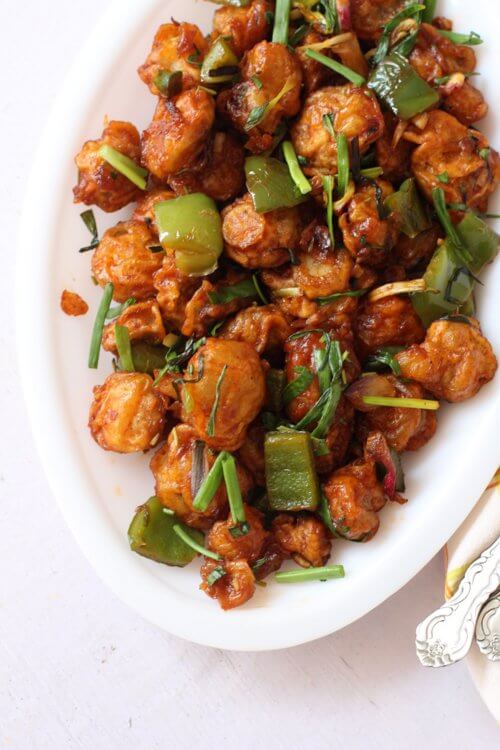 chilli mushroom recipe
Chilli mushroom recipe is almost the same as mushroom manchurian recipe with gluten free ingredients that I blogged yesterday. The main player is red chilli paste which gives the deep fried mushrooms color and a spicy flavor. Dry red chillis are soaked in warm water for a few minutes, drained, ground to a fine paste and sauteed in oil for a few minutes to remove the raw flavor. Mushrooms are dipped in a batter made of all purpose flour and corn flour and deep fried to golden perfection. They have a crisp exterior with a delicate soft interior. You can eat them right off the stove without tossing them with any flavorings. Its so good. 🙂
These golden fried mushrooms are tossed in a sauce consisting of minced ginger, garlic, soy sauce, tomato sauce, sugar, red chili paste, vinegar and corn flour. This sauce is packed with sweet, sour and spicy flavours. And, spring onions are necessary for flavor along with green capsicum which adds color and crunch to the mushroom goodness. Sweet, tangy with kick of right amount of spice, the perfect combination of flavors!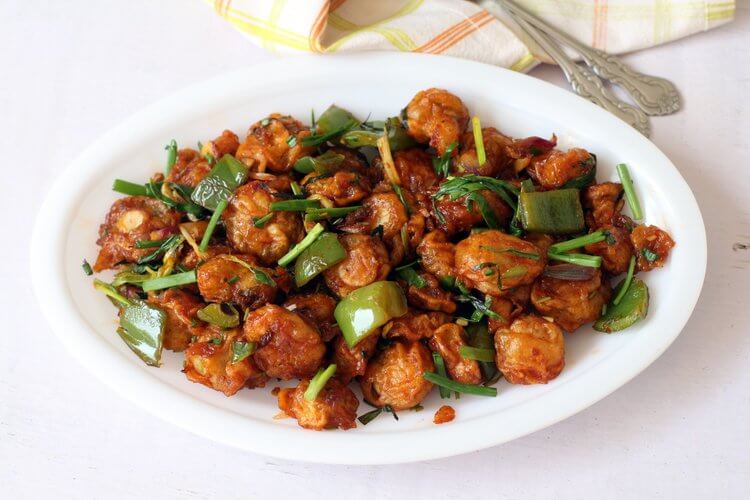 chilli mushroom dry recipe
This chilli mushroom recipe is awesome, because it can be served as a starter with toothpick skewers. If you're serving this visually appealing, bite-sized chilli mushroom at your next party, do make a very large batch as your guests are sure to ask for seconds again and again. Chilli mushroom will definitely have your guests licking their fingers. And it makes for perfect starter for vegans too.
This is one dry mushroom indian starter that you will, without a doubt, be making again and again. You can thank me later. 🙂 Do add it to your list of dry mushroom recipes Indian style. Also check out chilli paneer recipe and chilli baby corn recipe
How to make chilli mushroom dry recipe at home