Our lunch ~ rice with pappu pulusu and chikkudu kaya vepudu
I'm a fan of fiber rich lima beans and can never have enough of them. Love their buttery flavor. Earlier on I had blogged a recipe using lima beans and tomatoes. Today, its a cold weather stir fry recipe that is great tasting and makes a good side with rice and rotis.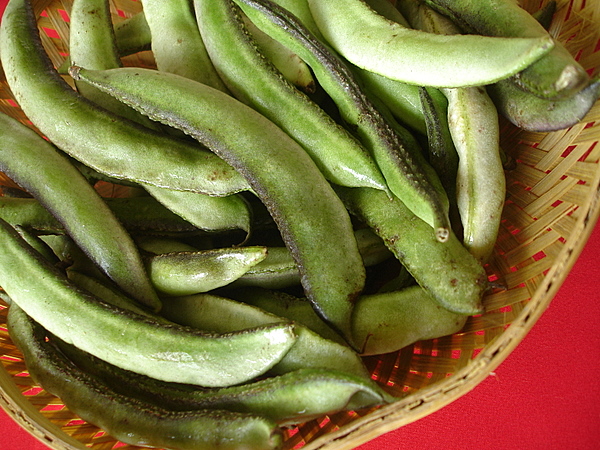 Chikkudukaya ~ Lima beans, Indian broad beans
Chikkudu Kaaya Vepudu Recipe
Prep & Cooking: 30 mts
Serves 3-4 persons
Cuisine: Andhra
.
Ingredients:
1/4 kg chikkudukaaya, stringed and tear into 1″ pieces (par-boil till half-cooked)
1 onion finely chopped
1 large tomato, finely chopped
2 green chillis, chop into big pieces (adjust)
1/2 tsp chilli pwd
pinch of turmeric pwd
pinch of cumin pwd
pinch of methi pwd (roast fenugreek seeds and pwd)
3/4 tsp coriander pwd
1 tsp jaggery (optional)
salt to taste
few fresh curry leaves
1 dry red chilli, tear, de-seed
1-2 tbsps chopped fresh coriander leaves
1/2 tbsp oil
1 Heat oil in a cooking vessel, add green chillis, dry red chilli, fresh curry leaves and chopped onions and saute on medium heat for 4-5 mts till the onions turn transparent.
2 Add the chilli pwd, coriander pwd, cumin pwd, methi pwd, turmeric pwd and salt. Combine.
3 Add the chopped tomatoes and cook till they turn soft or till oil separates.
4 Add the par-boiled broad beans and jaggery, combine. Sprinkle approx 5-6 tbsps of water and place lid. Simmer for about 10 mts. It should be a dry saute and not watery. If you find it watery, increase flame and cook till water evaporates.
5 Adjust salt and when the beans are completely cooked, turn off heat and garnish with fresh coriander leaves.
From my desk top quote book, 'Mottos for success' ~
'Life is like a martial art. You can kick and swing all you want, but excellence is only achieved through patience, discipline, balance, and much practice.