Cheese corn balls recipe, an easy to make, delicious, vegetarian kids snack with a crispy exterior and a soft and cheesy inside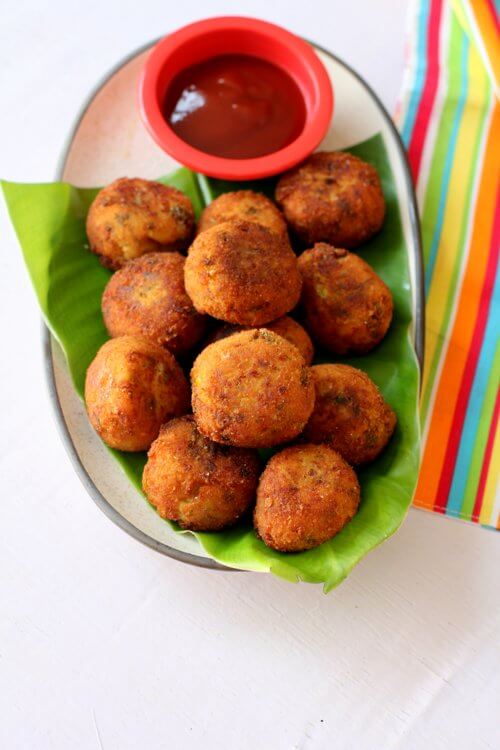 cheese corn balls
Cheese corn balls were regular after school snack in our home growing up. My mother would even pack these cheese bursting balls in our school snack box which was eventually shared with friends at school. My son loves these cheesy balls and anything that contains potatoes, cheese and corn. They make for a great party appetizer and you will have your guests noting down your recipe for cheese corn balls. 🙂
It is a no onion no garlic Jain style cheese corn balls recipe with minimal ingredients that include aloo or potatoes, sweet corn, cheese, ginger, green chilis, and fresh coriander leaves. The sweet corn brings out the sweetness, the ginger, and green chilis add a bit of spice and the addition of cheese and coriander leaves balances the flavors. You can add any flavors of your choice like red chili flakes, oregano or garlic powder. You can even season the bread crumbs for more flavor. You must take care not to over cook the potatoes and cool them completely before grating. The key to good cheese corn balls is minimal moisture and the even coating of the prepared cheese corn balls in bread crumbs before deep frying. This ensures a crunchy outside and an inside that is soft, creamy and cheesy. A pretty versatile recipe that you cannot go wrong with.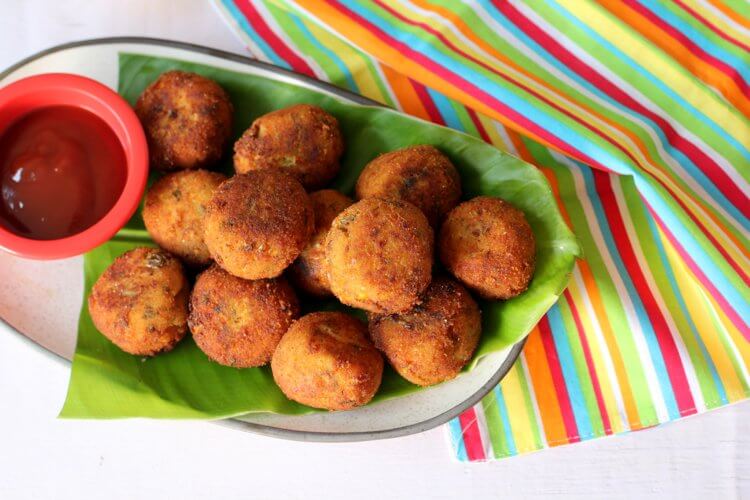 cheese corn balls recipe
If you want to serve these cheese and corn balls as a party appetizer, place the balls in the freezer after coating them with breadcrumbs. You can remove them an hour before deep frying, thaw, and deep fry. I always place the prepared balls in the fridge for a couple of minutes before dipping in corn flour batter, roll in bread crumbs and deep fry. This helps the cheese balls to hold shape and the flavors to meld. For a more cheesy burst, you can place a small cube of cheese in the middle of the cheese corn balls. This yields a soft and gooey center that kids just love.
These bite-sized, desi balls make for an ideal snack for your kids lunchbox. An amazingly tantalizing, utterly addictive, party appetizer that can be served with mayo, barbecue sauce, honey and mustard sauce, tomato ketchup or any favorite tomato based dip of your choice. A ridiculously easy recipe for cheese corn balls that you can make from scratch at home and achieve that crispy and crunchy outside and soft and gooey inside.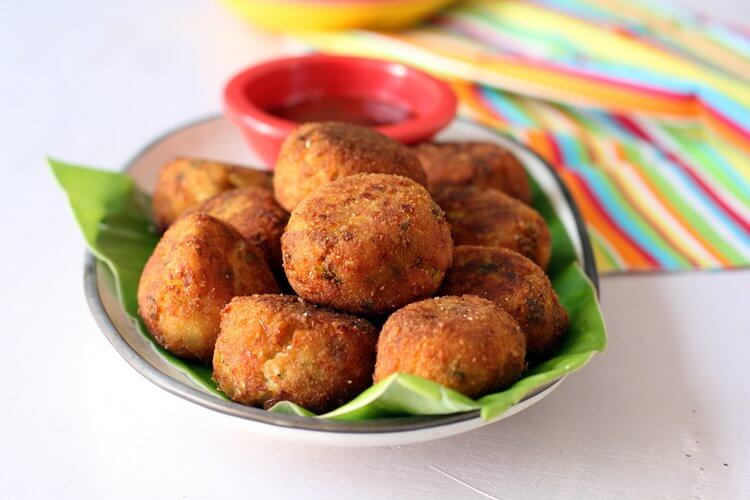 make cheese corn balls – kids snack
While you are here, do check out a few more snacks and starter recipes that might be of interest to you.
How to make cheese corn balls at home