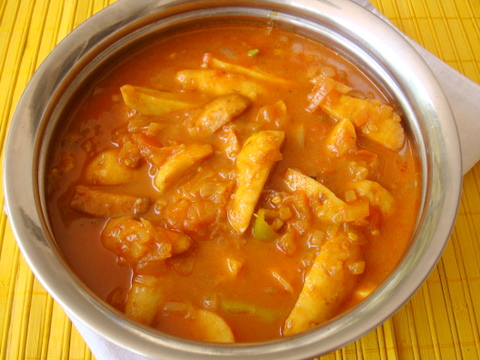 As I was getting this post up, I was surprised to find that this knobbly, not-so-good-looking tuber aka taro root (colocasia/arbi/chamadumpa) is mentioned for the first time in my blog. Better late than never. 🙂 At home, we enjoy taro root cooked in a tangy tamarind sauce aka pulusu. I also enjoy this starchy tuber in the form of a stir fry or chips seasoned with chilli powder and salt.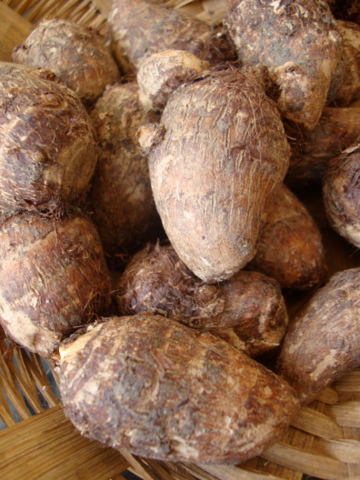 Chamadumpala Pulusu Recipe
Preparation: 30 mts
Serves 4-5 persons
Cuisine: Andhra
.
Ingredients:
1/4 kg chamadumpalu/taro root/arbi, wash, peel and quarter each root
1 onion, finely chopped
2 tomatoes, finely chopped
2-3 green chillis, slit lengthwise
10-12 curry leaves
1 tsp red chilli pwd (adjust)
1 tsp coriander pwd
1/4 tsp turmeric pwd
1 tsp grated jaggery or sugar
small lemon sized tamarind, extract pulp
salt to taste
coriander leaves for garnish (optional)
1 1/2 tbsps oil
For poppu/tempering/tadka:
1/2 tsp mustard seeds
big pinch methi seeds/menthulu/fenugreek seeds
few curry leaves
1 Heat oil in a pan. Add mustard seeds and let them pop, add methi and curry leaves toss for a half a minute till the flavors come out and take care not to burn them.
2 Add the chopped onions and green chillis and saute for a minute. Add the taro root pieces and salt and combine. Cook for 10-12 mts or till the onions and taro root are lightly browned.
3 Add chilli pwd, coriander pwd and turmeric pwd and combine well. Add the chopped tomatoes and cook further for another 4-5 mts.
4 Add the grated jaggery and tamarind pulp along with approx three cups of water. Bring to a boil and reduce flame and cover with lid. Let it cook for 8-10 mts till the gravy thickens slightly. Remember, 'pulusu' is a gravy dish and should be of a slightly watery consistency.
5 Once cooked, garnish with coriander leaves and serve hot with steamed rice.