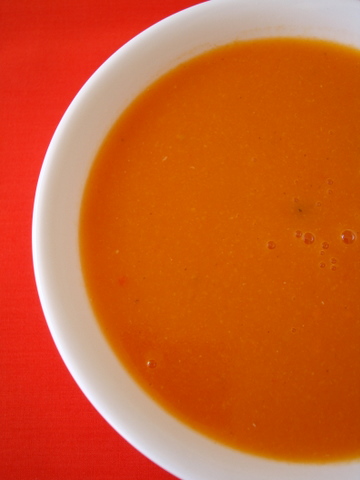 Carrot Soup
Super simple, basic carrot soup the way I like it. There are numerous versions of carrot soup. I enjoy carrot soup when combined with thick coconut milk. This orange shaded warm pot of goodness is light, nourishing and comforting for a rain filled wet day.
Carrot Soup Recipe
Prep & Cooking: 50 mts
Serves 3 persons
.
Ingredients:
3 carrots, washed, lightly peeled, cubed
1 onion, sliced
1 tsp ginger-green chilli paste
1 tbsp ghee
4-5 cloves
1″ cinnamon stick
1 tsp grated jaggery
salt to taste
1/4 cup coconut milk
1 Heat ghee in a vessel, add the onions, ginger-green chilli paste and saute for 2-3 mts. Add the cubed carrot and saute for another 7-8 mts. Add 6 1/2 cups of water along with cinnamon stick and cloves. Let it cook till the carrot turn tender, approx 25-30 mts. Discard the cinnamon stick and cloves. Cool, strain and puree the carrot-onion mixture.
2 Add coconut milk to the pureed mixture, the left over strained stock and jaggery and let it simmer on medium heat for 5-6 mts. Add salt and combine.
3 Serve hot with croutons.