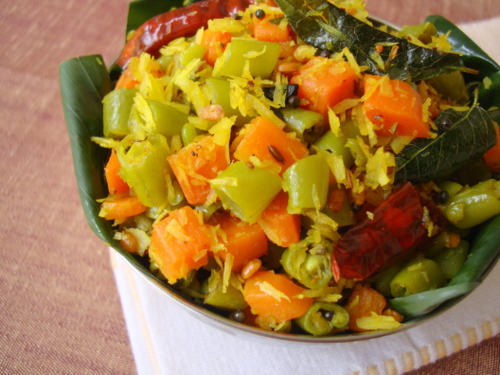 Carrot Beans Vepudu-Vegetable Stir Fry
A classic South Indian style vegetable stir fry that adorns a traditional thali is Carrot beans vepudu aka poriyal aka thoran aka stir fry. 🙂 Healthy, easy to make with perfect combination of flavors. Curry leaves, hing and fresh coconut are my top most 'essential' ingredients whenever I venture out to make this vegetable fry recipe. Goes well with rice and sambar.
Carrot Beans Vepudu Recipe
Prep & Cooking: 25 mts
Serves 4 persons
Cuisine: Andhra
.
Ingredients:
200 gm french beans, stringed and chop into small pieces
1 large carrot, peel and cube
2 green chilies, slit
pinch of turmeric powder
salt to taste
1/2 tbsp oil
3 tbsps fresh grated coconut
For seasoning/poppu/tadka:
1/2 tsp mustard seeds
1/4 tsp cumin seeds
1/2 tsp split gram dal
2-3 dry red chillis, de-seed and tear
1/4 tsp hing/asafoetida/inguva
10-12 curry leaves
1 Par boil beans and carrot in a cup of salted water and pinch of turmeric for 7-8 mts. Turn off heat and drain any left over water. (Use this water as stock for soup or use along with water to knead chapati dough)
2 Heat oil in a cooking vessel, add mustard seeds and let them pop. Add the cumin seeds and split gram dal and once they turn slightly red, add fresh curry leaves, dry chilies and saute for a few secs. Add hing and saute for a few secs.
3 Add the green chili, par-boiled french beans and carrots and mix. Cook for 7-8 mts on low flame.
4 Adjust salt if required and add grated coconut. Mix and cook for 2 mts and turn off heat. Serve with rice and sambar.