I'm making a conscious effort to include nutritious whole grains into our diet. And am looking out for some nourishing salad recipes or one pot meals that include brown rice. I'm sharing with you a lovely brown rice, apple and walnuts salad recipe, that calls for a generous dose of toasted walnuts, a hint of grated orange rind, tossed in olive oil and a big squeeze of fresh, fragrant orange juice.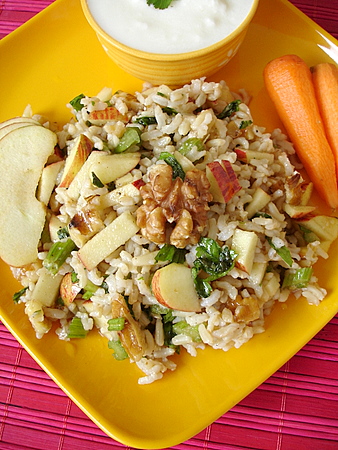 Brown Rice Apple Celery Salad
Cook a cup of raw brown rice and keep aside. In a bowl, combine 2-3 tbsps olive oil, 1/4 tbsp grated orange zest, 5 tbsps orange juice, 1 tsp vinegar, pinch of nutmeg pwd, salt and pepper to taste. Mix well. Add the cooked brown rice, one chopped apple, 2 tbsps raisins, 2-3 tbsps chopped celery (both stalks and leaves). Toss all the ingredients. Finally add 2 tbsps toasted, coarsely chopped toasted walnuts. Enjoy.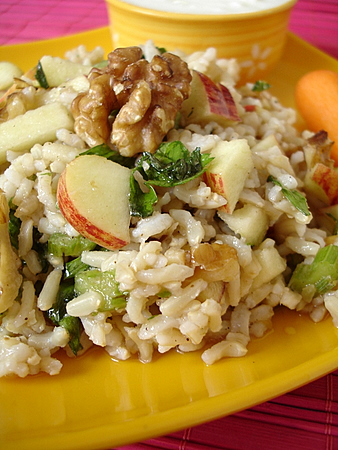 Brown Rice Apple Celery Salad
Those of you who feel an aversion to celery, replace it with coriander or cilantro leaves. Of course it will change the flavor but is still delicious. Feel free to mix and match ingredients to suit your palate.