Brown Rice Salad
Hoping all of you had wonderful start into the new year. I did.
'Pearls of wisdom' ~"Warm up for the year ahead like an athlete would warm up for a competition. Start gently with small movements, increasing the intensity as you go. You'll last longer and get farther that way than if you take off running at full speed." I have a daily desktop quote book, 'Mottos For Success', sitting by my computer table and what you just read is quoted from it (Jan 2nd).
I'm warming up on a healthy note with a salad using brown rice that will mark the beginning of my food blogging this year. 🙂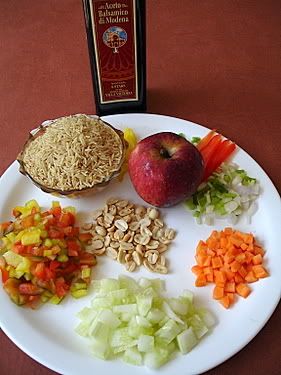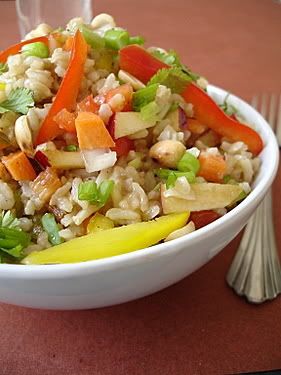 Brown rice salad ingredients & Brown rice salad
Cook 2 cups of raw brown rice and keep aside. While the rice is hot, mix in 4 tbsps olive oil, 2 tbsps vinegar, 4 tbsps balsamic vinegar, salt and pepper to taste. Let the rice cool completely. Once cool, add 4 tbsps finely chopped red and yellow bell peppers, 4 tbsps chopped cucumber, 2 tbsps chopped carrots, one finely chopped apple, 2 tbsps finely chopped spring onions, 1 tbsp chopped coriander/parsley and 2 tbsps roasted and peeled peanuts and combine well. Enjoy.