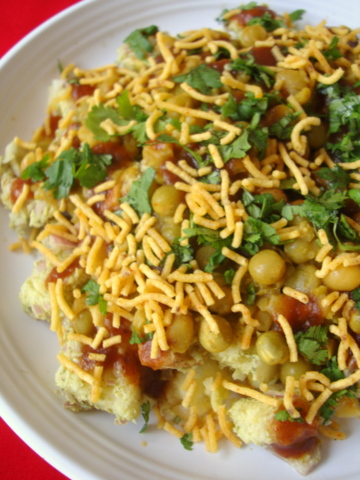 Bread Chaat
Craving for a chatpata snack? Have left over bread? Put it to use by bringing together a handful of simple ingredients to prepare a light, bread based meal. I have used ragda but it is not essential to prepare bread chaat.
Bread Chaat Recipe ~ Use 2 days old bread, remove sides and cut into small pieces. For 4 slices of bread pieces, add 3-4 tbsps of beaten curd and combine. Keep aside for 10-15 mts.
Take a wide serving plate. Place the bread pieces as the first layer. Layer with crumbled boiled potato. Sprinkle a dash of chaat masala powder. Spoon warm ragda all over the bread pieces. Spoon green chutney, followed by sweet chutney. Next sprinkle chopped onion, tomatoes and coriander leaves. Finally finish off with sev. Serve immediately.