Bharwa bhindi, an Indian regional cuisine stuffed ladies finger fry that's a gem among bhindi recipes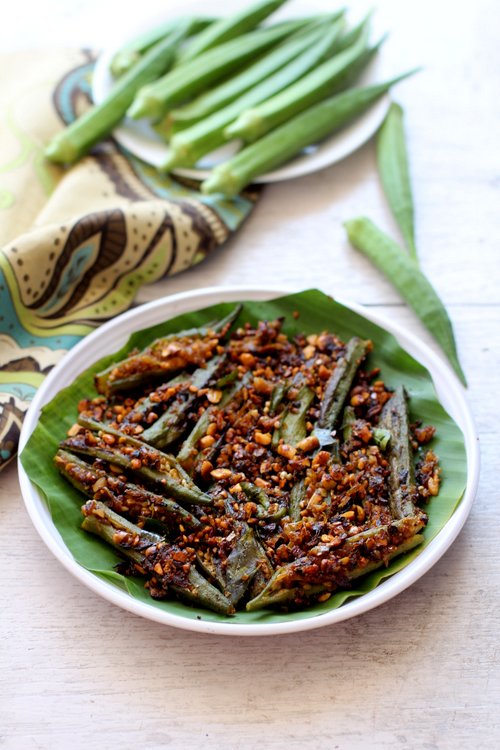 bharwa bhindi
An earthy, warm and delicious Indian dish, bharwa bhindi or stuffed okra. Our organic garden is giving us a good yield of fresh tender okra aka ladies finger over the past few weeks. So, bhindi stir fry and stuffed dishes with okra are in the making in my kitchen. I have blogged an addictive stuffed ladies finger dish from the state of Gujarat, bhindi sambhariya, which is a huge hit with quite a few Sailu's Kitchen followers. Stuffed bhindi is very popular in the hindi speaking states of India and Western India. Home cooks of various regional cuisines have they own unique blend of spices and ingredients that going into the making of stuffed bhindi or okra.
home grown okra – bhindi stuffed with filling
One of my favorite ways to cook okra is by stuffing with unique combinations of spices. Simple flavors that can surprise you and yield results that is far beyond what one might expect. Bharwa bhindi (in hindi bharwa = stuffed, bhindi = okra) is a versatile recipe and the ingredients can be tweaked based on what you have in your pantry.
I am posting bharwa bhindi recipe with besan, onions and loads of peanuts which lend a lovely crunch to this gluten free, vegan dish. Onions can be omitted and you have a bharwa bhindi that's a satwik, no onion no garlic recipe. Roasting on low flame is the key to bring out the delicious flavors of the okra. Bharwan bhindi pairs well with chapathi, roti or rice and makes a great addition to your list of bhindi recipes or vegetarian dinner ideas. Please your palate in some of winter's best flavors that sings from this vegetarian Indian dish.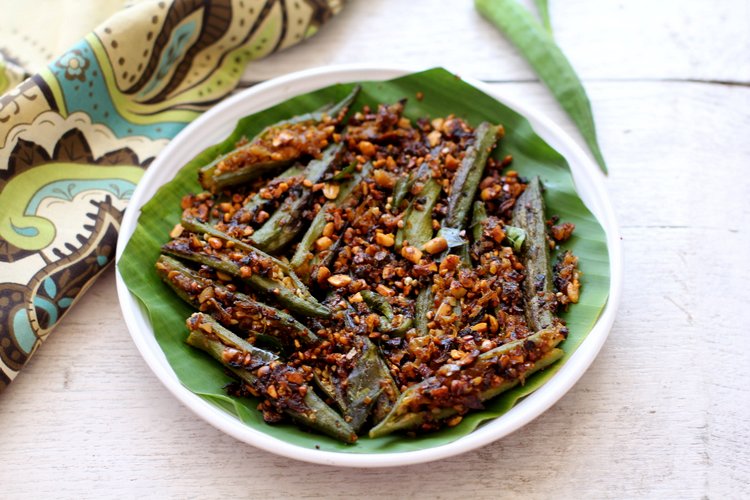 stuffed okra indian style
Learn how to make bharwa bhindi, Indian stuffed okra