The ever-abundant okra is a regular at our home. Armed with fresh tender okra from rythu bazaar (farmer's market), I made this light, bright and healthy okra stir fry along with Pappu pulusu for our meal today. The addition of roasted peanuts enlivens the okra and lends a crunchy layer of flavor. Just do your best not to overcook okra beyond recognition, they should be soft yet retain a bit of crunch.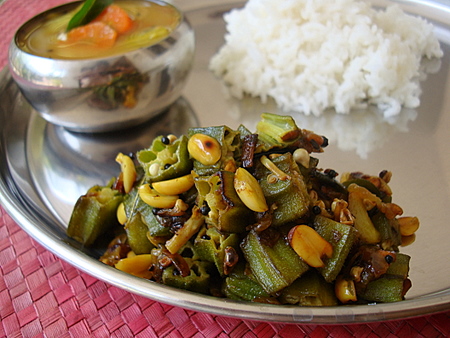 Bendakaya Vepudu with Pappu Pulusu and rice ~ Our meal today
Bendakaya Vepudu – Okra Stir Fry Recipe
Prep: 30 mts
Serves: 3-4 persons
.
Ingredients:
250 gms /1/4 kg bendakaya/bhindi/okra
1 onion, finely chopped
1/2 tsp mustard seeds
1/2 tsp cumin seeds
1/2 tsp red chilli pwd
1/4 tsp coriander pwd
pinch of cumin pwd
pinch of turmeric pwd
10-12 fresh curry leaves
salt to taste
1 1/4 tbsps oil
1 1/2 tbsps roasted peanuts
1 Wash the okra, dry them, chop tip and tail ends. Chop into 1/2″ pieces.
2 Heat oil in a cooking vessel. Once the oil is hot, reduce heat to medium flame, add the mustard seeds, let them splutter, add the cumin seeds and let them brown. Add the curry leaves, stir them for a few seconds.
4 Add the chopped onions and saute till transparent. Add the okra and turmeric pwd and combine. Saute on medium high heat for 3-4 minutes. Now reduce to low flame, add a tbsp of yogurt or lemon juice (to reduce slime) and let it cook for 4-5 mts. Saute in between so that they don't burn. Add the chilli pwd, cumin pwd and coriander pwd and reduce flame and cook till the okra turns soft.
5 Don't overcook the okra, they should retain that, slight crunchy texture. Add the roasted peanus at this stage and combine well. Let it cook for another mt on medium high heat, season with salt and turn off flame.
6 Serve hot with steamed rice.