Bedmi aloo sabzi recipe – spicy masala potato curry that's served with bedmi puri (lentil stuffed puri), popular North Indian street food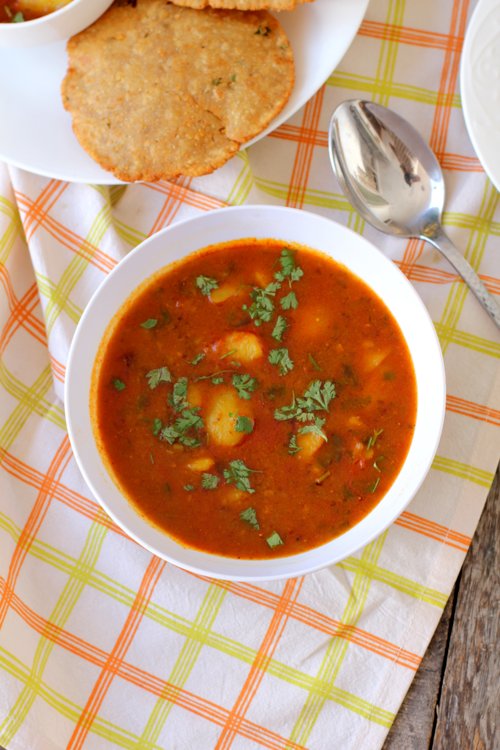 bedmi aloo sabzi
Bedmi aloo sabzi recipe is a deceptively simple to make comforting thin gravy or watery potato curry. This particular type of potato sabji is very popular in Northern India especially the street vendors who sell chaat, kachoris, bedmi puri and puri. It is also known as 'dubki aloo' which means chunks of softened, spice soaked potatoes dunked in a flavorful runny sauce or curry. In fact, its a treasured Indian regional food dish and is a signature dish of Mathura's (Lord Krishna's birth place) street food fare. Mathura ke dubki wale aloo is served with bedmi puri, urad dal kachori, puri or paratha.
Infact it is a no onion no garlic recipe, super quick to make provided you have some boiled potatoes on hand. Usually tomatoes are not used in the authentic bedmi aloo sabzi recipe but few home cooks add tomatoes for more flavor. If you are making this dubki aloo recipe, do make sure you use green chilis, ginger, garam masala and fresh coriander leaves. They add oodles of flavor to the simmering curry making it addictive.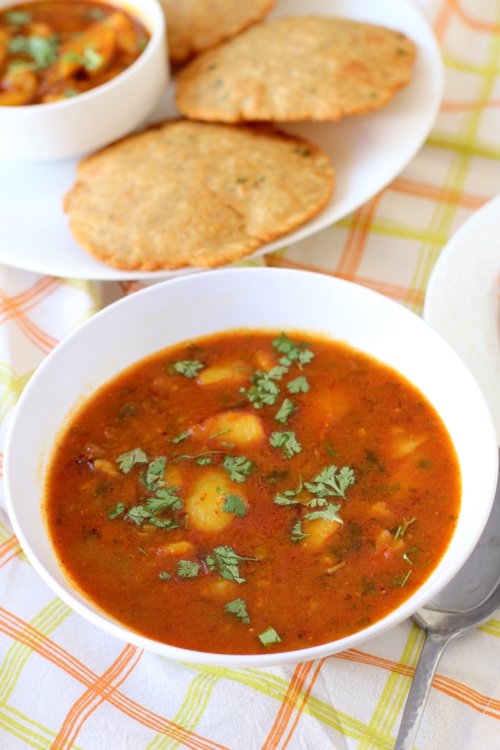 bedmi puri aloo sabzi
Its no exaggeration that this humble bedmi aloo is one of the best vegetarian dish of Uttar Pradesh cuisine. A gem among potato sabji recipes and one that should be added to your recipe repertoire. If you are a fan of potatoes and looking out for North Indian style aloo recipes, do check out banarasi aloo matar sabzi, aloo sabzi for kachori, aloo matar sabzi, aloo rasedar and tamatar aloo sabzi.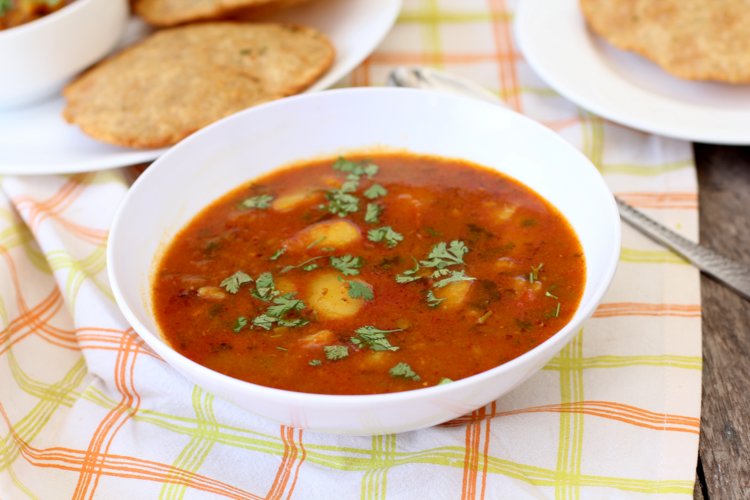 dubki wala aloo
bedmi puri recipe
how to make bedmi aloo sabzi recipe