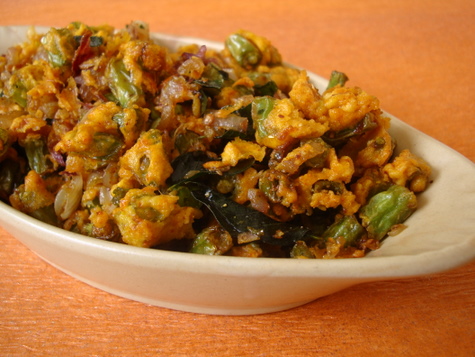 Beans Pakodi Kura
Another of Amma's speciality dishes. Similar to Crispy Dondakaya (Ivy Gourd/Tindora), that was appreciated by many of you dear readers, but with a slight variation. Makes for a very good side with rice and rasam or sambar. The beans pakodi are delicious on their own, but when tossed in the curry leaves infused seasoning, intensifies the flavor making it addictive. I added a dash of coriander powder towards the end for extra oomph. 🙂
Beans Pakodi Kura Recipe
Recipe Source: Amma
Prep: 30 mts
Serves: 4 persons
.
Ingredients:
250 gms /1/4 kg French beans, cut into 1/2″ pieces
oil for deep frying
For coating/batter:
1 tbsp corn flour
2 tbsps besan/chick pea flour/sengapindi
1/2 tsp ginger garlic paste
salt to taste
1/4 tsp red chilli pwd
Seasoning/Tadka/Poppu:
2-3 tsps oil
1/2 tsp finely minced ginger
3/4 tsp finely minced garlic
2 green chillis, finely chopped
2 sprigs fresh curry leaves
1 small onion, finely chopped
pinch of red chilli pwd
3/4 tsp coriander pwd
1 Wash french beans, nip the ends. Slice them into 1/2″ pieces.
2 Heat oil for deep frying in a heavy bottomed vessel. As the oil is heating, get the coating ready. In a vessel, add chopped french beans, corn flour, besan, salt, ginger garlic paste and chilli pwd. Sprinkle little water and combine well such that french beans are just coated, lightly. Very little water is required.
3 Once the oil is hot, reduce heat to medium high flame, slowly drop the batter coated french beans into the oil and deep fry to a golden shade. Remove onto absorbent paper.
4 Heat a vessel, drizzle some oil, add ginger and garlic and saute for a half a mt. Add the green chillis and curry leaves and fry for few secs till the aroma emanates the kitchen. Add the chopped onions and saute on high for 3-4 mts. Add chilli pwd and combine well. Add the crispy french beans and stir fry on high for a mt. Add coriander pwd and toss. Serve hot as a snack or a vepudu with rice and rasam/sambar.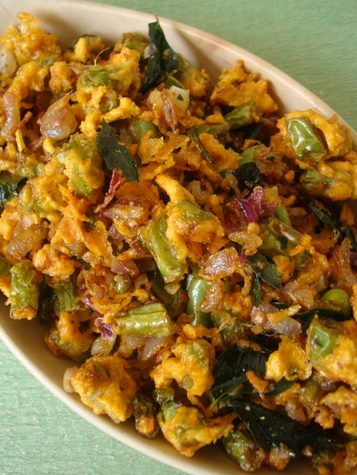 French Beans Pakoda Stir Fry