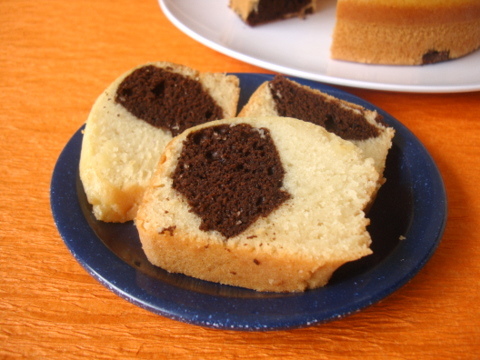 Basic Eggless Cake
There have been a few reader requests for a basic eggless cake recipe after I posted eggless chocolate cake recipe. Yesterday, I was in a mood to bake and decided on Nita Mehta's basic eggless vanilla cake recipe using curd. Very few ingredients go into its making, the main players being curd aka yogurt and oil. A simple, unassuming cake that has never failed me.
Eggless Vanilla Cake
Eggless Basic Cake Recipe
Preparation: 10 mts, Baking: 35 mts
.
Ingredients:
1 1/2 cups all-purpose flour, sifted from a height at least 3 times
1 cup thick curd/yogurt
3/4 cup sugar (you can use upto 1 cup)
1/2 tsp baking soda
1 1/4 tsps baking pwd
1/2 cup refined oil
1 tsp vanilla essence
1 Preheat oven to 200 C for 10 mts. Grease and flour an 8″ inch baking pan.
2 Cream the sugar and yogurt until the sugar is completely dissolved. Add baking pwd and baking soda and combine. Leave aside for 3 mts. You will find that bubbles appear.
3 Add vegetable oil and vanilla essence and mix well. Now, slowly add little sifted flour/maida (about a tbsp) at a time and fold into the wet ingredients.
4 Bake in preheated oven at 200 degree C for 10 mts, reduce temperature to 175 and bake for 20-25 mts or till a toothpick inserted into the cake comes out clean.
5 Cool the cake for 20-30 mts and then overturn onto a plate.
Note: To give a chocolate flavor to the cake, combine 1/2 tbsp of cocoa pwd to 1/4 cup of the basic cake batter and combined well. While pouring batter into pan, pour a tbsp of cocoa batter towards the edge of the pan and next to it pour a tbsp of white batter, followed by the cocoa batter. Follow this pattern till the first layer is done. Over this layer, pour the remaining white cake batter.
If you want to frost the cake follow this vanilla butter icing recipe – Sieve 1 1/2 cups icing sugar and add to 1 1/4 cups white butter and beat until smooth using an electric beater. Add pinch of salt and 1 tsp vanilla essence and combine. Chill and and spread the icing all over the cake.