Raw Plantains are a low glycemic source of carbohydrate and full of nutrition. Aratikaya as its known in Andhra is a regular every day vegetable in South Indian vegetarian cuisine. I usually prepare stir fries, yogurt based or tamarind based stew, pachadi and vadas with Raw Plantains.
The key is to use fresh and firm green plantains before they ripen to a yellow shade. Today's vegetarian stir fry recipe makes for a perfect side dish with rice, sambar, papad and a bowl of yogurt. This simple plantain fry calls for a few aromatic spices like cinnamon which brings immense flavor to the well roasted plantains. Tempering of curry leaves and fresh coriander leaves as a final garnish are essential so do not compromise with these ingredients.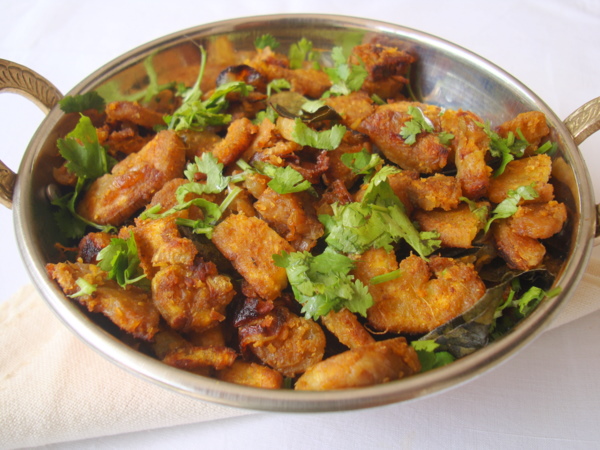 Aratikaya Vepudu ~ Raw Plantain Fry
Aratikaya Vepudu Recipe
Prep & Cooking: 35-40 mts
Serves: 3-4
Cuisine: Andhra
.
Ingredients:
2 raw green plantains, peel, slice each plantain lengthwise and slice (place in water)
1 large onion, finely chopped
1 tsp ginger-garlic paste
big pinch turmeric powder
1 tsp chilli powder
1/2 tsp coriander powder
1/4 tsp roasted cumin powder
pinch of methi powder (dry roast and make a fine pwd)
pinch of cinnamon powder
2 tbsps fresh grated coconut
1 1/2 tbsps oil
salt to taste
fresh coriander leaves for garnish
For poppu/tadka/tempering:
1/2 tsp cumin seeds
2-3 green chilies, slit
8-10 curry leaves
1 Mix chili powder, methi powder, turmeric powder, coriander powder, cumin powder, salt, ginger garlic paste and grated coconut to the sliced raw plantain. Sprinkle 4-5 tbsps of water and keep aside for 10 mts.
2 Meanwhile, heat oil in a cooking vessel, add the cumin seeds and let them splutter. Add curry leaves and green chilies and toss for about 5-6 seconds.
3 Add the chopped onions and saute for 4-5 mts till they turn pink. Add the sliced plantain pieces and stir fry for 4-5 mts without lid on medium high. Constantly stir fry to ensure they don't burn or stick to the pan.
4 Cook with lid on low to medium flame for 18-20 mts or till the plantains are well roasted and turn soft. Remove lid and cook on medium high, tossing constantly, for 2-3 mts. Add cinnamon powder and mix. Turn off heat and remove onto a serving bowl.
5 Serve with hot rice and sambar.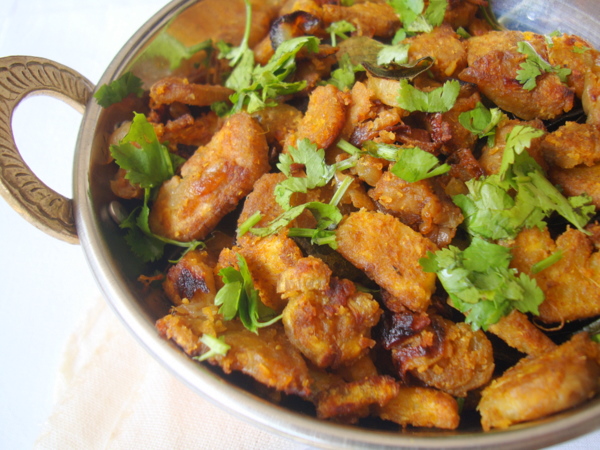 I
ndian Vegetarian Stir Fry using Raw Plantains