For a good many years I couldn't get myself to eat chicken pickle or any non-veg pickle for that matter. Not until one Sunday when a friend invited me home for lunch (remember those combined studies days!). She coaxed me for a very long time with pleading looks, "Taste the gravy, at least". And taste I did. I am ever grateful to her for getting me to taste this heavenly 'Kodi Avakaya'. She even gave me a bottle of chicken pickle prepared by her grandmother to take home. I regret not asking for the recipe. One of the best chicken pickles I tasted to date.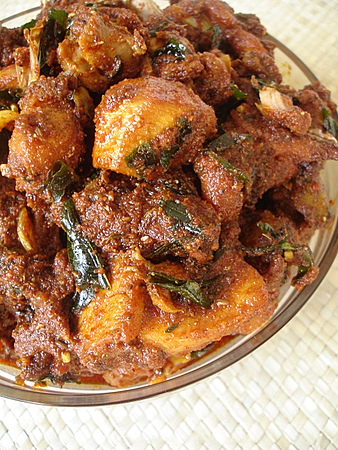 The chicken pickle I'm posting today is a tried and tested special one that our family relishes with dosas, rotis and rice. Don't cut corners and follow the instructions to the T and you can't go wrong. Among the numerous Kodi Pachadi recipes I tried, this one is close to the flavor of my friend's grandmother's pickle recipe.
Andhra Chicken Pickle recipe
Prep & Cooking: 1 hr 15 mts
Cuisine: Andhra
.
Ingredients:
1 kg chicken with bones, cut into bite sized pieces
1 1/2 tbsps ginger garlic paste
1 1/2 tbsps red chilli pwd
1/2 tsp turmeric pwd
juice of 3 lemons, heat for 3 mt and cool
1 1/2 – 2 tbsps salt (adjust)
4 tbsps oil
Dry roast and make a powder:
3 tbsps coriander seeds/dhaniyalu
1 tbsp cumin seeds/jeera
1 tbsp poppy seeds/khus-khus/ghasagasalu
1 1/2 tsps methi seeds/methulu/fenugreek seeds
6 cloves
2″ cinnamon stick
1 elaichi/cardamom
1 star anise
For tempering/poppu/tadka:
pinch of methi seeds
30 fresh curry leaves
3-4 dry red chillis
15 cloves garlic, slightly crushed
3/4 cup oil
1 Dry roast all the spices individually over low heat and cool. Once cool, combine all the dry roasted ingredients and grind to a fine pwd.
2 Heat 4 tbsps oil in a heavy bottomed vessel, add chicken, ginger garlic paste, red chilli pwd and salt and cook on high heat for 5 mts. Reduce heat to medium high and continue to cook till the oil separates and there is hardly any water content. This frying will take about 25 mts. This step is crucial to chicken pickle making. Keep stirring in between.
3 Heat 3/4 cup oil in another heavy bottomed vessel, add methi seeds, curry leaves, dry red chillis, crushed garlic and saute for a minute. Add the cooked chicken pieces along with any left over gravy and oil. Combine well. Add the ground spice pwd and combine well and cook on medium to high for 15-18 mts, stirring in between.
4 Add the cooled lemon juice and combine well and turn off heat. Cool and store in an airtight bottle and refrigerate.
Note:
Prepare this pickle when you have some time on hand and refrigerate it for a longer shelf life. The recipe I follow calls for heating of lemon juice so do not skip this step. Dry roast the spices well over low heat. Cloves, cinnamon, star anise and cardamom can be roasted together.