Aloo fry, an easy, quick, crispy potato fry made with less oil that makes a great side dish with rice and dal or sambar
aloo fry
Aloo fry with less oil? A well roasted and crispy potato fry with less oil is very much possible. I will share a few tips on how to make potato fry that's quick and perfectly crispy with less oil and makes for a great side dish with rice, dal or rasam and yogurt. Potatoes are indispensable in my everyday cooking and my food blog is testimony to that. I have blogged many Indian potato recipes which include a variety of potato fry recipes like andhra style potato fry, andhra potato fry with onions, south indian style potato fry, aloo fry south indian style, potato roast and pahari aloo gutke. I have also shared many other regional Indian food culinary gems like potato dishes like aloo tamatar sabzi, aloo matar and many more.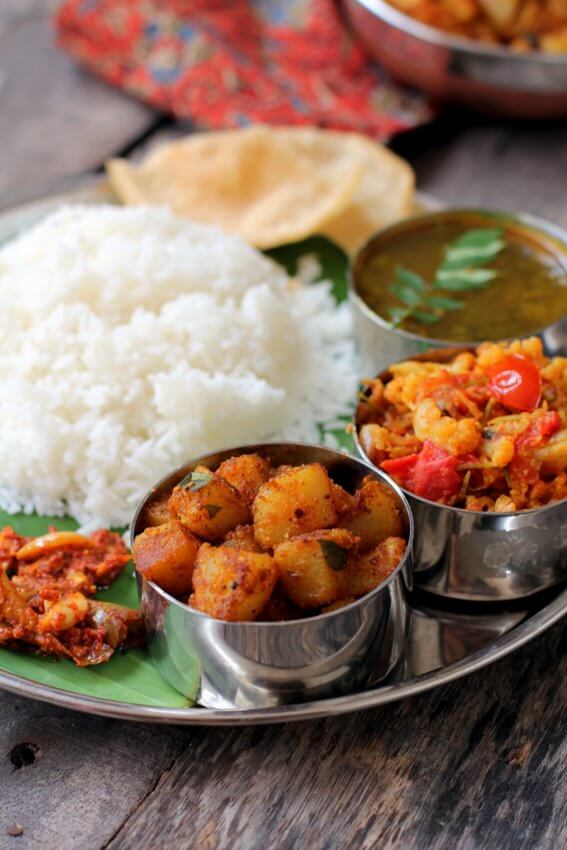 potato fry as a side dish with rice, cauliflower tomato curry and rasam
Potato is a starchy vegetable and we need to remove some of the starch before roasting it as it is responsible for the potatoes to stick and become mushy. Most times, I peel the potatoes the earlier night and place the whole potatoes in a bowl of water and refrigerate it. Next day morning, I cube or chop the potatoes evenly. Ensure that all the pieces are even sized. I place the cubed potatoes in enough water such that they are immersed, add a generous amount of salt to the bowl and leave it on the kitchen counter for a few hours before I make the potato fry. This process helps remove the starch of the potatoes which helps in achieving a crisp potato fry. Just before frying the potato cubes, I drain the potatoes and allow them to sit in the strainer for at least one min. The drained potatoes are then placed on a kitchen towel for a min to remove any moisture. I use less than two tablespoons oil for two very large potatoes. I usually make it in a cast iron skillet or a kadai that is well seasoned with oil. Usually, I add salt either in the middle of the cooking process or towards the end of the cooking process. Heat control as well as the minimum tossing of the potato cubes, during the cooking process, is essential.
You can use a non-stick pan also to make the potato fry if you do not have a cast iron pan or skillet. In case you are rushed for time, you can wash, peel the potatoes, cube them evenly and soak in salted cold water for a minimum of 30 mins to an hour before making the potato fry. You will still achieve a crisp potato fry with less oil in less than 30 mins.
The tempering and spices that I use are minimal and always less is more while preparing aloo fry. I tweak the spice powders each time I make it. There are endless variations to the humble, simple aloo fry recipe and each one has a unique taste that is hard of resist. For today's potato fry recipe, I have used asafoetida, mustard seeds and curry leaves (kadipatta) for tempering and turmeric powder, red chili powder and coriander powder to flavor it.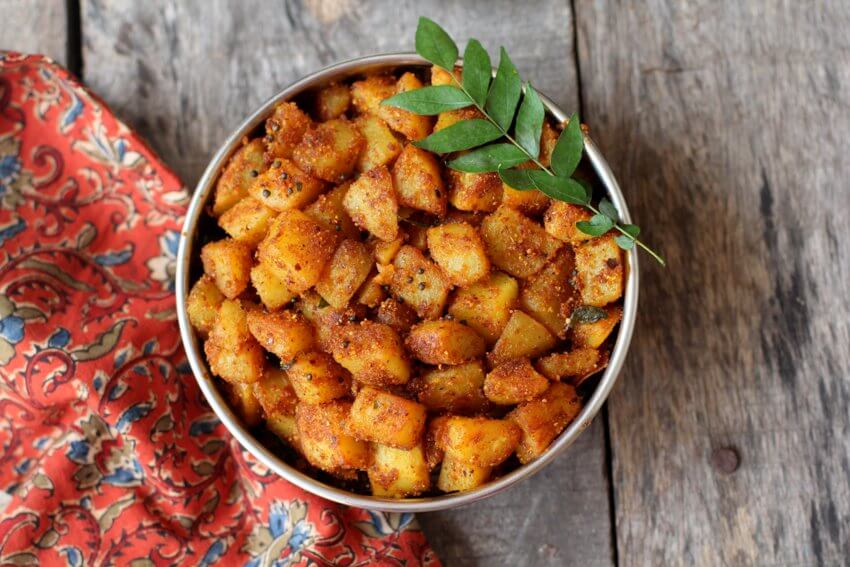 how to make potato fry crispy
If you keep these tips in mind while making aloo fry, you are sure to achieve a crispy crust on the outside and soft on the inside potato fry. Do give this potato fry recipe as its one of the best among Indian potato recipes that you would have ever tried. 🙂
How to make potato fry that's crispy with less oil