Scientifically known as Lawsonia Inermis, the henna plant is a flowering shrub whose leaves and flowers have immense value according to Ayurveda and Sidda medicine. Today, its popular as a dye (Mehendi aka Gorintaku in Telugu) to temporarily stain nails, hands, feet and hair.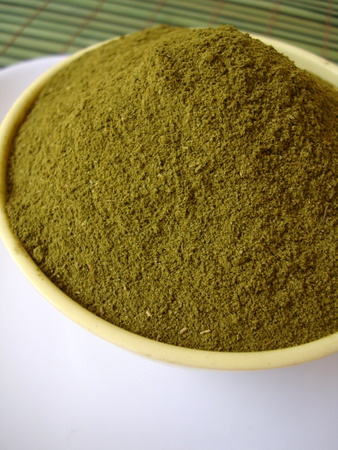 Homemade Henna Powder, Gorintaku Podi
Our backyard garden boasts of a henna plant whose leaves are sun-dried and ground to a fine powder. I use the finely ground henna powder along with few other natural ingredients as a hair pack. With coolant and astringent properties, it keeps dandruff as bay and works as a good conditioner.
Henna Plant ~ Tender Henna leaves
Sun dried henna leaves
Botanical Name : Lawsonia Inermis, English Name : Henna, Common Name : Mehendi