There are certain recipes which always remain our favorites and we can never be tired of cooking them over and over again. One such favorite recipe that I cook often and is enjoyed by my family and friends is the Spicy Chicken Masala Curry. Its better than any restaurant recipe. This chicken curry recipe is not a fancy one, very simple, straightforward and quick to make. I don't remember the recipe source, its been there in my recipe files since ages, thought I'd share it.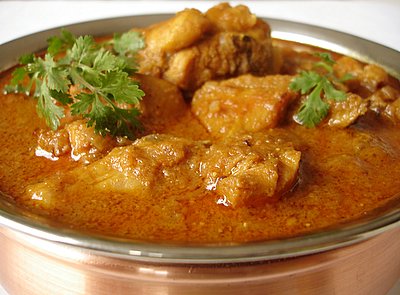 There are endless variations to the chicken curry and today's chicken curry is prepared with the same basic ingredients as any normal chicken curry, the only other major ingredient is cashewnut paste. The spice level of the curry is high due to the use of black pepper and chilli powder. But the blending of cashewnut paste with the spices offsets the spicy flavor of the curry and gives this dish its unmistakable, not-too-rich, subtly sweet, warm and spicy flavor.
Spicy Chicken Masala Recipe
Recipe source: From my recipe files
Prep & Cooking Time: 30-35 mts
Serves 4-5 persons
Cuisine: South Indian
.
Ingredients:
Marinate:
½ kg chicken, washed and cut into medium sized pieces
3 tbsp curds
1 tsp red chilli powder (adjust to suit your spice level)
¼ tsp turmeric pwd
salt to taste
Make a paste:
6-7 cashewnuts
4-5 tbsps milk
Dry roast and make a fine powder:
1" cinnamon
10-12 curry leaves
3 cloves
Rest of the ingredients:
3-4 tbsps oil
2 big onions finely chopped
1 large tomato finely chopped
1 tsp ginger-garlic paste
1 tsp coriander powder
3/4 tsp black pepper powder (adjust to suit your spice level)
¼ tsp cumin powder
coriander leaves for garnish
1 Marinate chicken pieces in chilli powder, turmeric powder, curds and salt for 20 mts.
2 While the chicken pieces are marinating, make a paste of cashewnuts and milk. Keep aside.
3 Dry roast cinnamon, cloves and curry leaves for 1 mt and make a powder of them. Keep aside.
4 Heat 1 1/2 tbsps of oil in a cooking vessel. Add the onions and saute till pink. Add ginger-garlic paste and saute further for another 3-4 minutes on medium heat.
5 Add coriander pwd, cumin pwd, pepper pwd and combine well and fry for another minute.
6 Add the tomatoes and let it cook for 3-4 minutes. Combine well and cook till oil separates.Turn off heat. Cool and grind the cooked masala. Keep aside this masala paste.
7 Heat 1 1/2 tbsps oil in a cooking vessel and add the marinated chicken and cook on high flame for 4-5 minutes, reduce heat and cook covered for another 4-5 minutes.
8 Add the ground masala paste, cashewnut paste and ground powder of cinnamon, cloves and curry leaves and combine well. (Add a cup of water for more gravy consistency). Cook till chicken pieces are soft and you get the desired curry consistency. Adjust salt.
9 Garnish with fresh coriander leaves.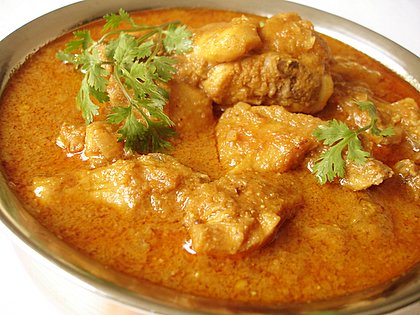 Note:
Adjust the spices according to your choice. Dont over fry the masala too much or burn it as its the masala paste which gives the chicken its flavor. If you dont have curry leaves on hand, don't worry. Do add more water for a gravy consistency. One variation is add a tbsp of coconut paste and juice of half a lemon to the above curry for added flavor.