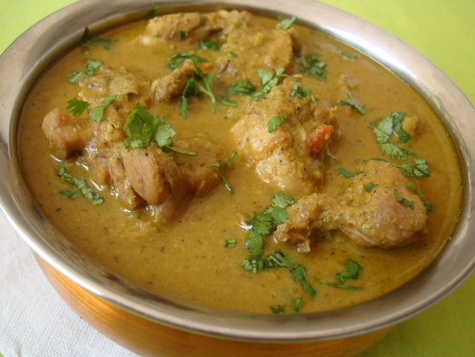 Nilgiri Chicken Korma
One of the best korma recipes I have prepared in recent times. Made for a wonderful side with Chicken Dum Biryani that I prepared on Sunday. The key to this recipe, which has its origins in the hill station of Tamil Nadu, is coconut, mint and coriander leaves which lends a greenish brown shade and infuses the korma with a mild sweet herby flavor, filling the kitchen with an aroma that is almost intoxicating. The use of aniseed (saunf) and cardamom add even more fragrance and flavor to the unassuming korma. I especially love the flavor and scent of mint leaves in this recipe. Its outright delicious!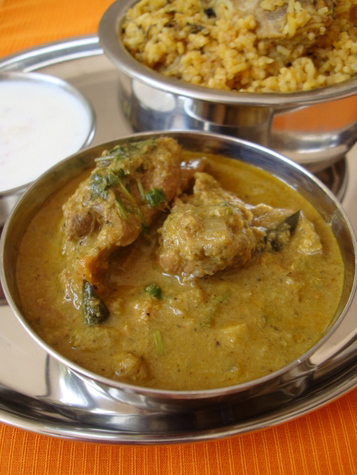 Nilgiri Chicken Korma Recipe
Prep: 15 mts Cooking: 40 mts
Serves 4-5 persons
Cuisine: Nigiri/Tamil Nadu
.
Ingredients:
1 kg chicken pieces, washed
2 large onions, finely chopped
1 1/2 tbsps ginger garlic paste
1 large tomato, chopped
1 tsp red chilli pwd
1/4 tsp turmeric pwd
1 1/2 tbsp lemon juice
salt to taste
2-3 tbsps oil
chopped coriander leaves for garnish
Dry roast:
1 tsp cumin seeds
1 tsp saunf
1 tsp khus khus
1″ cinnamon
2 cardamoms
5 tbsp grated fresh coconut
8 cashew nuts
1 tbsp roasted chickpeas
Roast: (in 2 tsps oil for 5 mts)
6-8 curry leaves
8-10 shallots/sambar onions
4 green chillis
3 tbsps chopped coriander leaves
15 mint leaves
1 Make a paste of ingredients under 'dry roast' and 'roast' by adding a few tbsps of water and keep aside.
2 Heat oil in a heavy bottomed vessel, add curry leaves and saute for few secs. Add the chopped onions and fry till transparent. Add ginger-garlic paste and saute for 3 mts. Add red chilli pwd, turmeric pwd and salt and combine. Add the chopped tomatoes and fry for 4-5 mts.
3 Add the ground paste and cook over medium heat for 7-8 mts.
4 Add lemon juice and the chicken pieces and combine. Cook without lid for 5-6 mts. Add 3 cups of water and cook with lid on simmer till the chicken is tender and the gravy thickens. Garnish with chopped coriander leaves. Turn off heat.
5 Serve with pulao, biryani, coconut rice or rotis.