Rich and creamy, Murgh Musallam, is a party fare that should be relished with family and friends. On Sunday, I cooked this special chicken dish along with phulkas and vegetable salad for a potluck. Everyone enjoyed the rich curry and wanted more helpings. No left overs. 🙂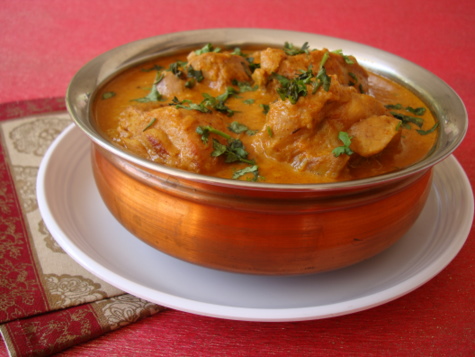 Murg Musallam
This recipe calls for some preparation work and you need to have some time on hand to prepare it. I wouldn't advice any short cut method. Follow the recipe to the T and you have a truly Awadhi style chicken curry to relish. The next time you have a party at home, try this chicken dish with phulkas or any flavored rice and its sure to be a hit.
Murg Musallam Recipe
Recipe source: My recipe files
Prep: 30 mts, Cooking Time: 25-30 mts
Serves 5-6 persons
Cuisine: Mughalai
.
Ingredients:
1 kg chicken, washed and cut into medium sized pieces
2 large onions, sliced
4 garlic cloves, sliced
2 large tomatoes, pureed
1/2 tsp red chilli pwd
fresh coriander leaves for garnish
salt to taste
10 almonds, soak in warm water, remove skin and make paste
2 1/2 tbsps oil
Dry roast on low flame for 3 mts:
1/2 tsp pepper corns
1/2 tsp cumin seeds
1 1/2 tsps coriander seeds
1″ cinnamon
4 cloves
2 elaichi/cardamom
For Marinade:
1 1/4 tsp ginger garlic paste
1/2 tsp green chilli paste
3/4 cup curd/yogurt
1/2 tsp red chilli pwd
1/4 tsp turmeric pwd
1 Marinate chicken with the ingredients called for 'marinade' for 1/2 hr. Meanwhile make other preparations.
2 Heat a tbsp of oil in a vessel, add garlic and sliced onions and saute for 6-7 mts till they turn brown. Remove and keep aside. Once cool, make a fine paste of the sauteed onions, garlic and dry roasted ingredients, by adding a little water (approx 4-5 tbsps). Keep aside.
3 Heat a tbsp of oil in the same cooking vessel, add the chicken pieces (keep aside the marinade) and roast them for 6-7 mts till they are lightly browned. Remove and keep aside.
4 In the same vessel, drizzle some oil, add the ground paste and saute for 3 mts. Add salt and red chilli pwd and combine. Add the tomato puree and cook for 4 mts.
5 Add the chicken pieces, marinade, almond paste and 1/2 cup water and combine well. Cook on low to medium flame till the chicken turns soft with a thick gravy.
6 Turn off heat and garnish with fresh coriander leaves. Serve hot with white rice, biryani or rotis.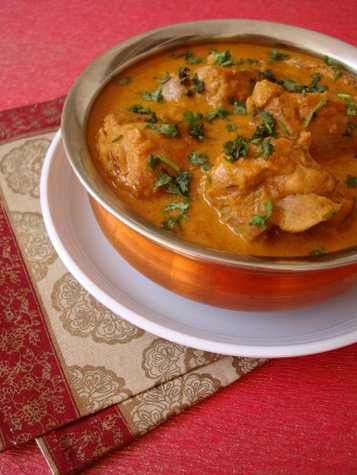 Chicken Musallam