One of the healthiest Indian spices that I use in my cooking is fenugreek seeds, called methi(hindi), menthulu(telugu) and venthyam(tamil). When Mythili of Vindu invited me to participate in Mistress of Spices event, to blog a spice of my choice, I knew what spice I was going to write about. Yes, methulu!!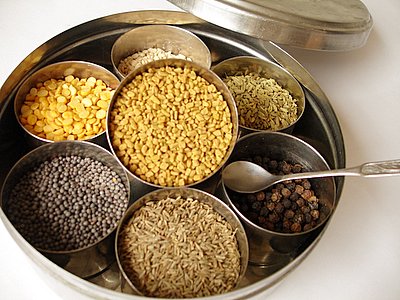 Name : Fenugreek seeds, methi (hindi), menthulu (telugu)
Origin: Indigenous to countries on the eastern shores of the Mediterranean and cultivated in India, Egypt and Africa.
Botanical name:Trigonella foenum-graecum L
Family name:Fabaceae
Plant Family: Leguminosae
Common Names: Bird's Foot, Bockshornklee, Greek Hayseed, Goat's Horn, Methi
Fenugreek seeds, an ancient spice, with a slightly bitter taste, are small, hard, yellowish-brown, smooth and oblong shaped.The fresh tender green leaves of the fenugreek plant, called methi or menthi, have a bitter-sweet flavor and used as a regular green vegetable in Indian cuisine like dals and vegetables.
Fenugreek seeds can be sprouted, have a slight pungent-sweet flavor and used to prepare salads. The dried form of fenugreek leaves, called "kasoori methi", is a popular spice used to enhance the flavor of Indian dishes.
Fenugreek seeds should be lightly dry roasted before using to enhance the flavor of the dish and reduce the bitterness of the spice. The more you roast, the more the bitterness. Adding these dry roasted seeds as it is or in powdered form to a gravy or dal dish lends the dish a tangy and mellow characteristic curry flavor. Soaking the seeds in water overnight, makes them soft and jelly-like and these swelled up seeds can be easily made into a paste.
The six tastes, sweet,salty, sour, bitter, astringent, bitter and hot, advocated by Ayurveda balances our diet for optimum health and nutrition and an easy way to get the bitter taste to our diet is to add fenugreek seeds to our foods.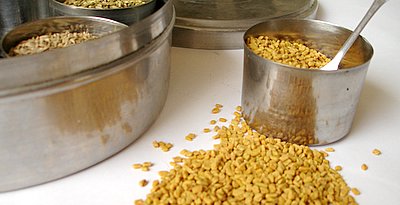 Medical research shows that fenugreek seeds lowers blood cholesterol and blood sugar levels.
It was also known to cure constipation, as a powerful expectorant, and is used as herbal infusion to break up respiratory congestion.
An ancient ayurvedic cure for dandruff – soak some seeds in water overnight, grind to a paste, apply onto the scalp and hair, leave for 20 mts and rinse. It also tones the hair, giving it a silky feel and shine.
Fenugreek seed paste or methi in powder form can be used as a face pack also, helps to tone the skin and cure acne.
Fenugreek seeds can be sun dried, powdered and stored. My tatayya (grandfather) who was a diabetic (for 40 years of his life) used to have one tsp of this powder daily or soaked seeds along with water (soaked in water overnight) early in the morning.
Read more about the uses, storage, medicinal properties and benefits of fenugreek seeds.
Note:
Pregnant women should be cautious in using methi because of its uterine properties, it relaxes the uterine. Its generally given to women after childbirth to expedite healing. It also helps stimulate milk production in nursing mothers. Its advisable to seek medical advise before the use of fenugreek seeds for curing any ailment.