Rava Kesari – moist, melt in the mouth Indian semolina dessert that is prepared as a festival special for occasions like Navratri. Not too complicated, just a few ingredients like semolina, clarified butter, sugar and cardamom mingle together to bring out something magical and exotic.
The key to a delicious Kesari is to slow roast semolina in ghee aka clarified butter till light pink without burning it. And when infused with a warming aromatic spice like cardamom the flavor of Rava Kesari is alleviated by leaps and bounds. Delightful when adorned with roasted cashews and raisins.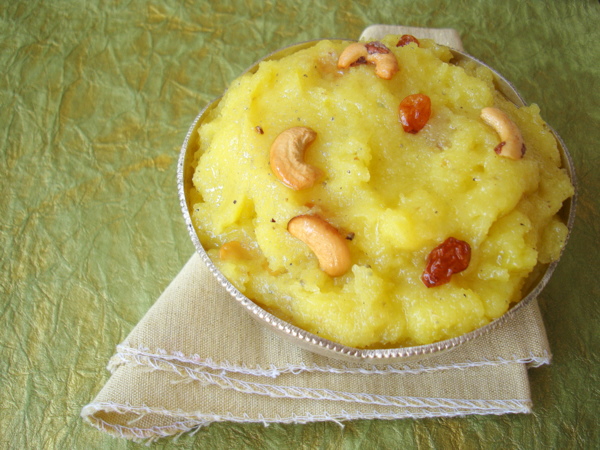 Kesari ~ Navratri Special
Kesari Recipe
Prep & Cooking: 20-22 mts
Serves: 7-8 persons
Cuisine: Indian
.
Ingredients:
1 cup sooji/semolina/upma rava
1 1/2 cups sugar (adjust to suit your taste)
2 1/2 cups water
5-6 saffron strands, soaked in a tbsp of milk
4 tbsps melted ghee/clarified butter/neyyi
12-15 cashew nuts/kaju/jeedi pappu
15-20 raisins/khis mish
3/4 tsp cardamom powder
1 Heat a heavy-bottomed vessel, add 2 tbsps of melted ghee, add cashew nuts and raisins and toast them till golden brown. Remove them and keep aside.
2 In the same ghee, add sooji/semolina and fry till light pink approx for 6 mts. You have to constantly stir it or else it will burn. Turn off heat, add sugar and mix.
3 Add water and cook on slow flame stirring constantly. It will come together like a thick pudding. It will take approx 8-10 mts to cook on slow flame.
4 Add saffron and half of the roasted nuts and raisins and mix. Cook on low flame for another mt. Add 2 tbsps of warm ghee and mix. Turn off flame, remove onto a serving bowl.
5 Garnish with the remaining nuts and raisins and serve warm.
Kitchen Tips:
For a rich flavor, add 1/2 cup milk and 2 cups water. Saffron can be substituted with Kesar color by adding a pinch of it to a tbsp of water.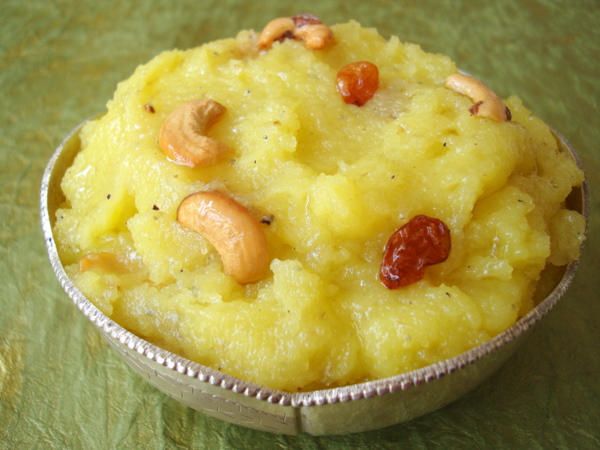 Rava Kesari
P.S With power cuts abound in Andhra Pradesh and erratic internet connection, I could not blog yesterday's offering to Goddess Durga.