I went to the Farmer's market and bought the freshest bitter gourd I have ever seen. I am a bittergourd fan. Prepared a simple classic recipe that combines the wonderful flavor of red chillis and garlic with caramalized onions and bittergourd to incredible effect. The burnt edges of bittergourd is what I love most about this vepudu. 🙂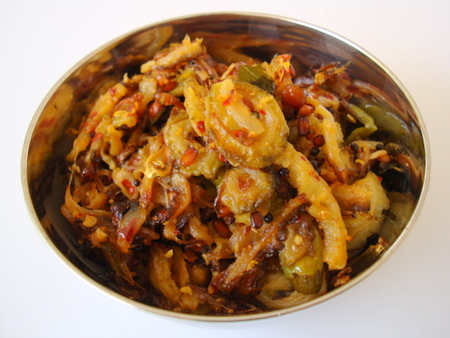 Kakarakaya Karam ~ Bittergourd Stir fry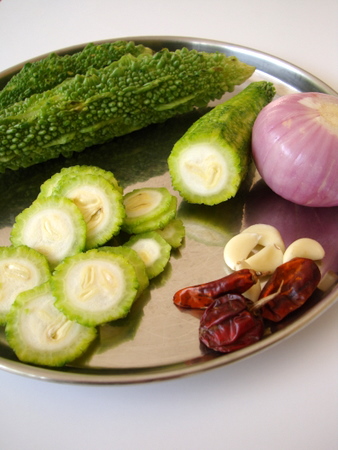 Bittergourd slices, red chillis, garlic and onion
Kakarakaya Karam Recipe
Prep & Cooking: 40 mts
Serves: 3-4
Cuisine: Andhra
.
Ingredients:
1/4 kg bitter gourd, peel, slice into rounds
1/4 tsp turmeric pwd
1 onion, finely sliced
1 tsp grated jaggery (optional)
1 1/4 tbsps oil
salt to taste
For seasoning/poppu/tadka:
1/2 tsp mustard seeds
1/2 tsp urad dal/minappa pappu/split gram dal
1 tsp senaga pappu/channa dal/bengal gram
10-12 curry leaves
Make a coarse pwd:
4 garlic cloves
2 dry red chillies, de-seed
1 Add turmeric and salt to the peeled bittergourd slices. Leave aside for 15 mts. Gently squeeze the liquid off the slices.
2 Heat oil in a cooking vessel, add the mustard seeds and let them pop. Add urad dal and channa dal and toss till the dals turn red and then add the curry leaves, stir fry for a few seconds. Add the sliced onions and fry for 3-4 mts till they turn transparent.
3 Add the sliced bittergourd slices and saute. Constantly stir fry on medium heat ensuring they don't burn or stick to the pan. Keep frying till they well roasted and this could take about 22-25 mts.
5 Add the ground red chilli-garlic mixture, jaggery and adjust salt. Combine and saute for another 3-4 mts. Serve hot with white rice.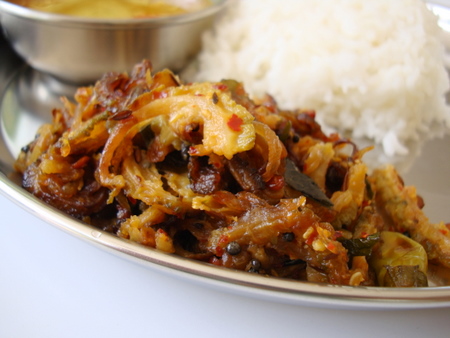 Bittergourd stir fry with rice and Mysore rasam ~ Our lunch