A party appetizer that is loved by all at my home. After a couple of trials, I have settled with this recipe. The secret to a flavorful Chicken Manchurian is the use of chicken stock. Marinated boneless chicken is deep fried and the golden balls are tossed with a cornflour based ginger-garlic concoction and garnished with a generous amount of spring onion greens. Serve hot to savor the true flavor of this Indo Chinese starter.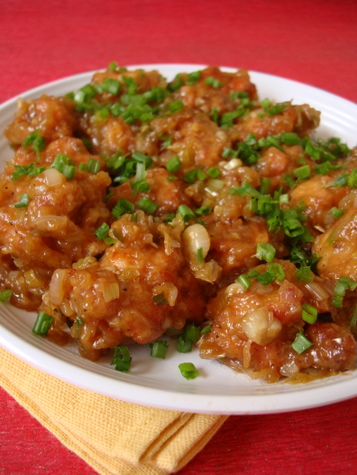 Chicken Manchurian
Chicken Manchurian Recipe
Marination: 1 hr, Prep & Cooking: 45 mts
Serves: 5 persons
Cuisine: Indo-Chinese
.
Ingredients:
1/4 kg boneless chicken, cut into fine pieces
6-7 tbsps spring onion whites
3-4 tbsps spring onion greens
1/2 tbsp chopped garlic
1/2 tbsp chopped ginger
2 tsps soya sauce
1 tbsp chilli sauce
2 tsps vinegar
1 tbsp corn flour + 5 tbsps chicken stock or water
1/2 tsp brown sugar
2 tbsps tomato sauce
1/2 tsp red chilli pwd (preferably Kashmiri)
salt to taste
1 1/2 tbsps sesame oil
oil for deep frying
For marinade: (marinate chicken with below ingredients for at least 15 mts or 1 hr)
1/4 tsp pepper pwd
1 egg white
salt to taste
1 1/2 tsps ginger-garlic-green chilli paste
1/2 tsp soy sauce
1 tbsp maida/all purpose flour
2-3 tbsps corn flour
1-2 tbsps of water, if required
1 Heat oil in a heavy bottomed vessel, make small balls of the marinated chicken and carefully drop into the hot oil. Cook on low medium flame and towards the end of the cooking process increase flame to high and deep fry to a golden brown shade. Drain with a slotted spoon and place on absorbent paper. Keep aside.
2 Heat a heavy bottomed vessel, add oil, add the chopped garlic and saute on high flame for about 30 secs. Add the chopped ginger and green chillis and saute for a few more secs. Add the spring onion whites and saute for 3 mts on high flame.
3 Reduce to medium heat and add the brown sugar, soya sauce, tomato ketchup, chilli sauce and vinegar. Combine well and cook for 2 mts. Add 1/4 cup chicken stock or water and cook for a mt. Add the deep fried chicken balls and cook for 4 mts. Adjust salt, if necessary.
4 Add the cornflour water and cook, tossing the contents, for 4-5 mts. You will find that it becomes thick due to cornflour.
5 Add the chopped spring onion greens and combine. Garnish with more spring onion greens. Serve hot as a starter/appetizer.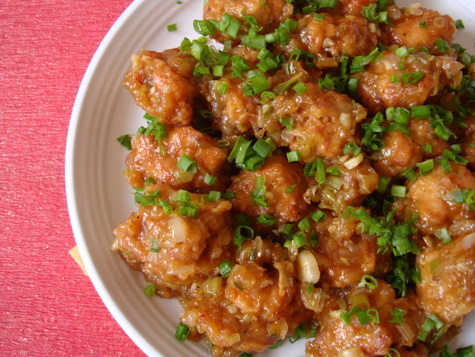 Indo Chinese starter ~ Chicken Manchuria