One of the most fascinating aspects of food blogging is the throwing open of fellow blogger kitchens, who share the same passion as me – food and cooking simple meals. Food blogging is helping me expand my culinary knowledge and learn about the multitude of cuisines our country offers – a treasure trove of delicacies with myriad flavors. In every traditional kitchen of the sub-continent you will find a strong emphasis on the use of fresh ingredients and the obvious difference occurs in the style and preparation which is in accordance to the deep-rooted cultural traditions.
Through my blog I'm embarking on a virtual culinary journey to discover the food, delicacies and eating habits of my fellow desis and savor the true taste of India. This month, we are fortunate to have my blogger friend, charming Nupur, take us to her home state, Maharastra to give us an insight of the food of Maharastra (with a focus on the region/community she grew up). Nupur blogs at 'One Hot Stove' where she shares her family recipes and food she grew up with at her home town Kholapur in Maharastra. Nupur's blog is a veritable treasure house of Maharastrian recipes and her A-Z series on Maharastrian cuisine is a perfect start for all those who want to learn more.
I am incredibly appreciative of Nupur's time and effort in bringing us this article (Nupur is on a blogging break). Thank you, Nupur, for taking time to share with us a slice of Maharastra!:) Dear readers and food blogger friends, please welcome Nupur who prepared a simple delicious summer fare for us!
~Sailaja

A Simple Summer Meal
by Nupur of One Hot Stove
Just like many people who end up living (for a short or long time) in places far away from their homeland, I learned to truly appreciate the food of my home only when I was living diametrically across the globe from it. You'd think I would miss the feasts, the elaborate sweets and the lavish festival spreads. Far from it- I missed the gavarichi bhaji (simple curry of cluster beans), the pan-roasted harbare (fresh green chickpeas, available only in season), and the sugarcane juice that is sold for a couple of rupees in grubby stalls in the bustling markets. When I started my blog, I was eager to make what I thought of as blog-worthy fare attempts at fancy desserts and so on. The day that I broke down and posted a recipe for amti (the workaday staple dal of Maharashtra), my perspective on food blogging and cooking in general changed forever. I knew right away that the dishes that I seek the most, and the recipes that I treasure the most, are the ones from home kitchens, the ones that don't often make it to cookbooks or to dressed-up restaurant tables or to glossy magazine pages. When I get invited to the homes of family friends and relatives in Maharashtra, my mother gives them a call to say, please don't make any fancy, special, reserved-for-company dishes, just make your regular vegetarian home-style food (sadha jevan) because that's what my strange daughter loves the most.
When I think of everyday lunches in Maharastra, I picture a wide stainless steel thali (plate) dotted with endless delicious morsels. I have to say that my perspective is from a particular community in Maharashtra and an urban middle-class family; there are so many regional cuisines within the state itself and rural cuisine merits a different discussion altogether. Being neither in the rice-loving South of India nor in the wheat-eating North, most Maharastrian families embrace both these staples and serve both steamed rice and bread, generally large chapattis or what is called ghadichi poli (layered rotis). The rice is most often served with dal/split lentils in the form of varan (plain toor dal) or amti (seasoned toor dal). Families seem to have their own traditions about the order in which rice and rotis are served. In our family, it was always rotis first. The other components of lunch are- a sukki bhaji (dry vegetable), rassa bhaji (vegetable curry), paaley bhaji (green leafy vegetable), usal (sprouts) and koshimbir (raw vegetables). But wait- there's more! Usually, there will be a fresh chutney, dry chutney powder, pickles, a small mound of salt, wedges of lemon and a cup of yogurt to use up every last square inch on the plate. I truly marvel at the wholesomeness of such a meal, which is brimming with the goodness of fresh seasonal produce, both raw and cooked, and complete with nutritional powerhouses like leafy greens and sprouts. The other thing I marvel about is just how elaborate this meal is. What a commitment it must be for the home cook to put such a lunch on the table day after day. Grandmothers and grandaunts tell me about a time when large joint families had several competent women in the kitchen where these meals could be accomplished using teamwork. They also sigh and say that one started making lunch right after clearing away the breakfast dishes and then started dinner prep right after lunch. The whole day revolved around making sure the family was properly fed. Today, such meals are hardly commonplace for nuclear families. But I do use this meal as an inspiration and remind myself to include these classic dishes of greens and sprouts regularly in our diet.
When I wanted to choose a recipe to make for this post, I thought of all the dishes that I enjoyed eating at home but that I have not yet come around to cooking myself. One dish came to mind immediately- a coconut-based curry containing chunks of succulent corn cobs. This is corn season in the US, and the perfect time to try this curry. As one might expect, there are so many ways to make this dish; I adapted a recipe from the Marathi cookbook "Lajawaab curries" (lajawaab can be translated as incredible or exceptional) by Sudha Maydev. It has the rather long but descriptive name of "Makyachya Kansanchya tukdyanchi kadhi" which translated as "corn cob pieces curry". Pieces of corn cobs are cooked right into the curry using a pressure cooker. The savory "umami" flavor of corn infuses into the curry. The recipe calls for a touch of cornstarch at the end. While not particularly traditional, I liked this step because it pulled the dish together into a thick and creamy curry that enveloped the chunks of corn.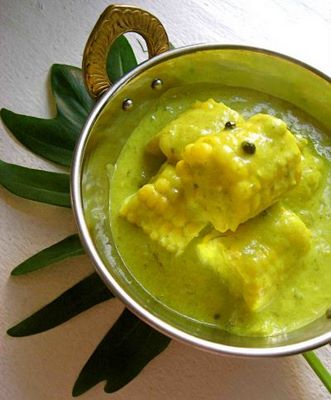 Corn Cob curry
(serves about 4)
Ingredients:
3 fresh corn cobs
1 large onion, sliced
6-8 peppercorns
Dash of turmeric powder
2 tsp. oil
1 cup thick coconut milk
1-2 tsp. cornstarch/cornflour
Fresh lemon juice
To be ground into a paste:
2 inch piece ginger, peeled
1-2 green chillies
Handful of cilantro/coriander leaves
Salt to taste
Method:
1. Remove husks and silk from the corn cobs. Rinse the corn and cut it into 1-2 inch pieces.
2. Rub the ginger-cilantro-chillies-salt paste on the corn pieces and set aside for 10 minutes.
3. Meanwhile, heat the oil in the body of a pressure cooker. Add the peppercorns and sliced onion and sauté until the onion is lightly browned at the edges.
4. Add salt, turmeric, marinated corn pieces, coconut milk and 2 cups water.
5. Pressure cook the mixture (I needed 2-3 whistles).
6. Once the pressure comes down, mix the cornflour with a little water to make a thin paste. Boil the curry, add the cornflour paste slowly, stir well and cook for 5 more minutes.
7. Turn off the heat and stir in lemon juice. Taste and adjust for the balance of flavors, adding salt and lemon juice as needed. The recipe calls for adding a tinge of sweetness to the curry using a dash of sugar, but corn in the US is so sweet that I did not need the extra sugar.
Serve this dish with a heap of fluffy freshly-steamed rice, all the better to sop up that flavorful curry. Eat with your hands, biting off tender corn kernels and gnawing at the juicy corn cobs to enjoy all of the flavor!
Even my mother and aunt have been enthusiastic supporters of my interest in Maharashtrian cuisine. They scour dusty bookstores and hunt down booksellers in all corners of the markets, and regularly supply me with obscure Marathi cookbooks, inexpensive ones typically printed on thin cheap paper, that often contain hidden gems in the form of little-known family recipes. The next recipe is adapted from one such tiny Marathi cookbook (a booklet, really) called "Ajichya Vividh Koshimbiri" meaning "Grandma's various salads", written by Pramila Patwardhan. It is a nice compilation of different quick methods and useful ideas for serving fresh vegetables at a meal in the form of tasty salads and relishes, all prepared in simple home-style ways. Most of the salads are simply dressed with a nice balance of lemon juice, salt and a dash of sugar. Some have a savory touch with a last-minute tempering of mustard seeds and asafoetida. Coarse peanut powder is a typically Maharashtrian touch to many salads.
I chose the recipe that follows because I had some cabbage and cucumber at hand and because I was intrigued by this recipe which is cool and fiery all at the same time. The crunchy fresh vegetables and yogurt lends the cooling touch, while a combination of warm cumin and spicy mustard and chillies provide the perfect kick. The recipe also calls for adding chopped capsicum (bell peppers) and grated carrot to this salad; I only skipped these because I did not have any on hand.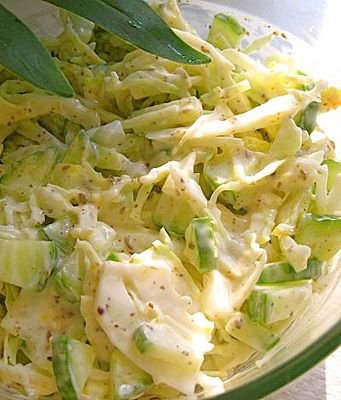 Dahi Kobi (yogurt cabbage): a Cabbage-Cucumber Salad
Ingredients:
1 tsp. cumin seeds
1 tsp. mustard seeds
1-2 cups thinly shredded cabbage
1 medium cucumber, cut in small dice
1-2 tbsp minced onion
1 fresh green chilli, minced
1-2 cups thick yogurt
Dash of sugar (optional)
Salt to taste
Method:
1. Lightly toast the cumin and mustard seeds, then cool and grind to a powder.
2. Mix the spice powder and the rest of the ingredients together. Serve chilled.
This salad was a delicious accompaniment to the corn curry but I think it would also be delicious with burgers as coleslaw with an Indian twist!
I want to thank Sailaja for this opportunity to share some of my love for the cuisine of my home. Thanks to food blogging, we are able to taste so many delicious dishes from each other's cultures. When a recipe from one family and one region gets cooked in a home from a different culture, it results in ties and connections that surely make our world a more harmonious place to live in. Cheers to that!
Article, recipes and images by Nupur ("One Hot Stove")