Indian Food Trail – Mangalore Recipes and Mangalorean Food Culture
Through my food blog, I have not only been able to explore my own regional cuisine (Andhra), but have been fortunate to explore a myriad of regional cuisines. India has a vast repertoire of extraordinary traditional culinary gems that are slowly disappearing. Our traditional culinary traditions are being lost as the older generations pass away. I have deep love and respect for regional Indian cuisines, meals prepared with fresh ingredients that embody simplicity and humility, cooked and served with love.
To learn and share about regional food culture, traditional home style recipes and cooking techniques, I had embarked on the Indian Food Trial journey in 2008. Not only did I learn about different food cultures, I even cooked and tasted new flavors. Indian Food Trail covered different regional cuisines of India where fellow food bloggers shared their insight into regional cuisines, traditional everyday recipes doted with sublime food experiences.
Listed below are guest posts on different Indian regional cuisines by fellow bloggers.
Maharastra
A Simple Summer Meal by Nupur of One Hot Stove
Traditional Maharashtrian Thalis – Veg & Non-Veg by Meera of Enjoy Indian Food
Traditional Maharastrian Sweet & Snacks by Meera of Enjoy Indian Food
Konkan Region – North Canara
An Essay on Konkani Cuisine by Shilpa of Aayis Recipes
Kerala
Munchies from a Kerala home – Shn of Mishmash
A traditional Malabar meal ~ Shaheen of Malabar Spice
Udupi-Mangalore
Exploring Udupi Mangalorean Street Foods by Sia of Monsoon Spice
Tamil Nadu
Traditional Tamil Tiffins – Lakshmi of Veggie Cuisine
Bengal
Bengali Cuisine ~ Sandeepa of Bong Mom's Cook Book
Hyderabad
Hyderabadi Cuisine ~ Mona of Zaiqa
I am happy to announce that I am continuing the culinary journey with the second edition of 'Indian Food Trail' to cover more unique regional cuisines among the diverse food cultures of our country. Earlier Supriya of Monsoon Spice shared her wonderful insight into Mangalore Street Foods. Continuing the trail on Mangalore food culture, Shireen is sharing with us a comprehensive article on Managlorean cuisine in general with a focus on Mangalore Catholic food. Shireen Sequeira mantains a lovely food blog Ruchik Randhap on Mangalorean food and recipes, blending modern and traditional Indian regional cooking. If you haven't visited Shireen's blog space, then you are missing a lot. 🙂
Today, she shares with us an in depth article on Mangalorean Cuisine. Here's the first post of her 3 part series on Mangalore food culture. Thank you, Shireen, for taking time to write a wonderful article on your home cuisine. Dear readers, please give a warm welcome to Shireen Sequeira.
~ Sailaja
FLAVOURS OF MANGALORE – AN OVERVIEW
Mangalore, the coastal town of South Karnataka is situated where the river Nethravathi meets the Arabian Sea. This 'meeting point' or 'Koodala', as it is called in Kannada (one of the local languages of Mangalore) is believed to be the reason why Mangalore is also known as 'Kudla' amongst the local people. 'Kodial' is another local variation of the same name. Every Mangalorean is proud to be associated with one of India's most beautiful coastal places. The virgin beaches and coconut groves easily remind one of Goa and Kerala – well Mangalore is similar because it lies along the same coast as these two States and has been bestowed abundantly with nature's bounty. Those who come to Mangalore instantly fall in love with this place and adapt themselves to it in many ways, taking back with them its rich culture, heritage and cuisine.
Pot pourri of cultures
Mangalore can be rightly described as the pot pourri of cultures and languages due to the influence of many communities that include the Tulu speaking Bunt & non Bunts, Konkani speaking GSBs (Gowda Saraswath Brahmins), non GSBs and Catholics, Kannada speaking Brahmins, non-Brahmins & Protestants and Beary Bhashe speaking Muslims. Hence Mangalorean food is rich with the contributions and influence of each of these cultures. The myriad flavours, cooking techniques and ingredients that are part of Mangalorean cuisine makes it rich, varied & truly a class apart. One can never get bored of eating food in Mangalore as there is so much to explore and savour. The different flavours of Mangalore food is what I aim to showcase in this post.
Different communities: Differences & similarities in cuisines
Each of the communities mentioned above have their own style of cooking – the flavours are distinctly different yet similar in many ways. For example, many seasonal delicacies that are prepared across homes tend to use the same ingredients and cooking techniques but may slightly vary in appearance and taste. Pathrade or Pathrode is one such delicacy that is traditionally prepared during the monsoon season. Made of colocasia (arbi) leaves, rice batter & spices, Pathrade involves steaming before it is cooked in a coconut based curry or smeared with masala paste and shallow fried. Now the technique behind making the Pathrade differs between communities. While the Catholics shred the colocasia leaves and mix it with the rice batter and then steam it in leaf packets, Hindus make it by smearing the ground masala paste between a cascade of colocasia leaves and then rolling this before steaming. The roll is then cut into roundels (slices) and cooked in a gravy or fried. Similarly other seasonal delicacies such as the Turmeric Leaf Patholi (Rice dumplings with a sweet filling of jaggery & coconut steamed in Turmeric leaves), Jackfruit Patholi (Steamed Jackfrui & rice batter cakes), Jackfruit Gariyo/Garige/Mulik (Jackfruit & rice batter fritters) Kottige/Khotto (Idli batter steamed in Jackfruit leaves) are some common delicacies across sub cuisines with just a slight variation in cooking technique and flavour.
Mangalorean recipes are largely synonymous with the Bunt cuisine as the Bunts have been pioneers in the hotel/restaurant business since decades. They have also been instrumental in giving the Masala Dosa the fame that it richly deserves and also brought the Neer Dosa and Kori Rotti to the forefront among the other Mangalorean food varieties. I have a special liking for spicy food that is the USP of Bunt style cuisine.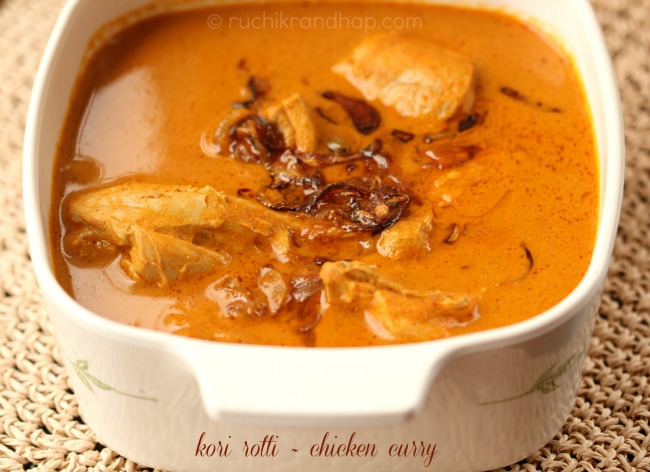 Chicken Curry
Here's the Mangalore recipe of chicken curry for Kori Rotti for you – it's my all time favourite spicy Kori (chicken) curry that is eaten with Rotti – wafer thin rice crepes that are dried and very crispy. While I doubt many people would still make it at home these days, it is manufactured at the industrial level and is available with most grocers in Mangalore or at 'Mangalore Stores' outlets in Bangalore & Mumbai.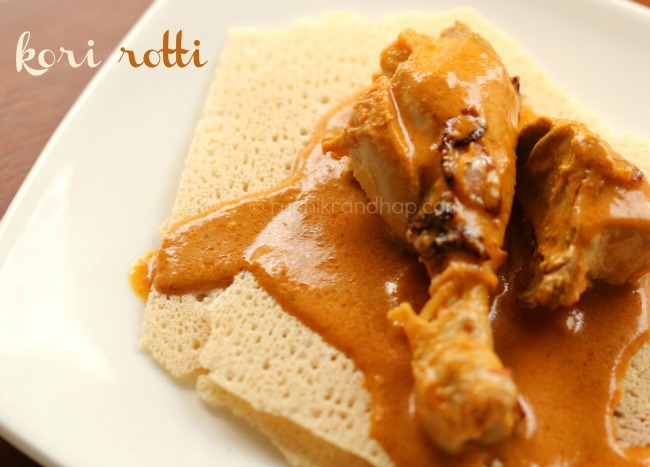 Kori Rotti
Enjoy the recipe! I will be back with a popular sweet dish along with the second part of the article on Mangalorean cuisine soon.
~ Shireen Sequeira