I spent the weekend sifting through readers comments seeking kitchen tips and recipe requests. Quite a few requests are 'how to' type questions like how to make soft pulkas or how to cook rice. This got me to start a 'How To' series on basics of Indian cooking. I am not an expert but would like to share my kitchen experiences and what works for me.
I am starting the 'How To' series with 'ginger garlic paste' that is indispensable to the Indian kitchen. Usually we prepare ginger garlic paste enough to last a month.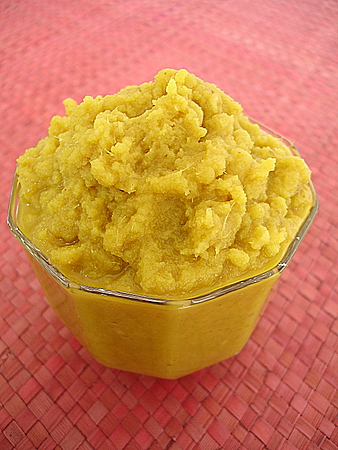 Ginger garlic paste ~ Allam Velluli Mudda
How to make ginger garlic paste (allam velluli mudda)?
Take 1 cup of peeled and sliced ginger root and 3/4 cup of peeled and sliced garlic. Add 1/4 tsp turmeric pwd, 3/4 tsp salt and blend to make a smooth paste. I don't add any water but you can add a tbsp of water. Store in a moisture free bottle, place a spoon, close the lid tight and refrigerate. You can freeze ginger garlic paste for months (to store beyond a month, add a tbsp of vinegar and a tbsp of olive oil (that has been warmed and cooled) or any oil to the above proportions).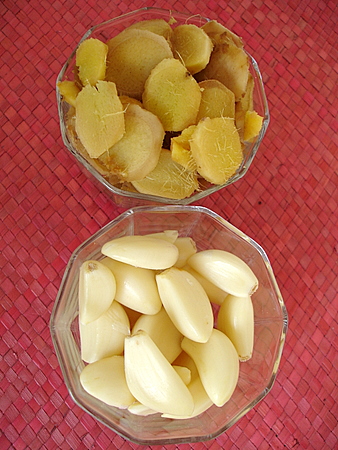 Peeled and sliced ginger garlic
Note:
You can add equal quantity of ginger and garlic. I personally prefer to use less garlic.
How do you make your ginger garlic paste?
How to articles:
How to make butter and ghee – photo tutorial
How to make rava dosa – photo tutorial