Chicken Vindaloo, a popular recipe of Goan-Portuguese fusion cooking, is a dish that stimulates one's appetite with its delicious and addictive flavors. Vindaloo is roughly translated from Portuguese as 'wine, vinegar and garlic'.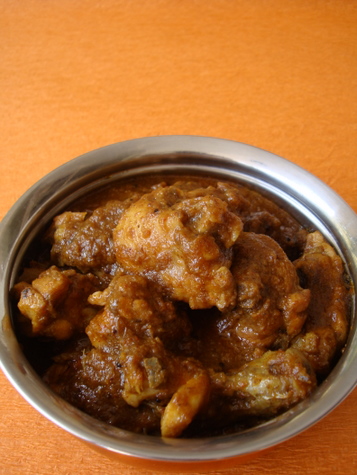 Chicken Vindaloo
A favorite at our dining table. Cannot get enough of it each time I prepare this thick dark colored saucy dish. A perfect balance of spicy, tangy and sweet flavors. A hint of sweetness from jaggery and caramalized onions and the sourness of vinegar melds with the fiery red chillis and spices to exude a flavor that is drool worthy. Its the caramalized onions which gives the dish its dark color.
Goan Chicken Vindaloo Recipe
Recipe source: My recipe files
Prep: 20 mts, Cooking Time: 30 mts
Serves 5-6 persons
Cuisine: Goan
.
Ingredients:
1 kg chicken, washed and cut into bite size pieces
2 large onions, sliced, sauteed in a tbsp of oil till caramalized, cool and make paste
1 tbsp ginger-garlic paste
1 tsp mustard seeds
1 tbsp coriander powder
1/4 tsp turmeric pwd
4 tbsps vinegar + 1 tsp grated jaggery or brown sugar (let it sit for 15 mts)
salt to taste
2 tbsps oil
Make a paste: add a few tbsps of water
3/4 tsp roasted methi seeds/fenugreek seeds/menthulu
1 tsp roasted cumin seeds/jeera
1 tsp pepper corns
6-7 dry red chillis, lightly roasted
1 1/2″ cinnamon/dalchini
2 elaichi/cardamom
1 Heat oil in a cooking vessel, add mustard seeds and as they sizzle, add ginger garlic paste and fry for 2 mts.
2 Add coriander pwd, turmeric pwd and salt. Combine. Add the chicken pieces and fry till they are slightly browned approx 8-9 mts. Remove the chicken pieces and keep aside.
3 In the same vessel, drizzle some more oil, if required, add the browned onion paste and ground masala paste and saute for 2 mts. Add the vinegar and jaggery mixture and combine.
4 Add 1 1/2 cups of water and the browned chicken pieces and cook till the chicken turns soft and it forms a thick gravy.
5 Serve hot with rice or rotis.