Gajjar ka doodh is one recipe I've tweaked and tested a number of times and today's version, is one which I keep returning to and well received by family and friends. Well, it all starts with some fresh carrots, milk, pala kova (evaporated unsweetened milk), sugar, infused with a hint of cinnamon, clove and a dash of freshly ground cardamom and saffron which gives it a delicious sweet note, aroma and a lovely color.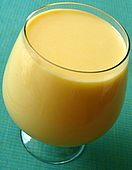 If you don't have unsweetened pala kova on hand, substitute with condensed milk and reduce the quantity of sugar. But try preparing it with pala kova – nothing to beat the flavor it lends to the carrot milk. This richly flavored comforting drink makes an ideal summer drink/a perfect party drink or when unexpected guests arrive. Well, this drink does improve with age, ahem, yes, tastes better the next day or the day after that..:).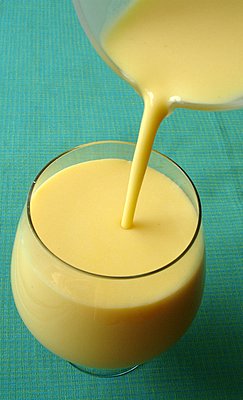 I'm sure many of you are surprised at the color of carrot milk, expecting it to be a bright orange shade. You see, its the addition of saffron which lent this dish its enticing beautiful yellow color..:)
Gajjar Ka Doodh Recipe
Prep & Cooking: 30-40 mts and chilling time
Makes approx 6 glasses
Cuisine: North Indian
.
Ingredients:
2 big carrots, steamed and pureed
1 1/4 lt milk (I used skimmed milk)
1″ cinnamon stick
1 clove
2 tbsp unsweetened kova or 3 tbsps condensed milk
4 tbsps sugar (adjust according to your choice)
1/2 tsp elachi pwd
few strands saffron (optional)
6 cashewnuts & 4 almonds (blanched) (soak together in some milk for 10-15 mts)
1 Steam the carrots, cool and puree. Keep aside.
2 Grind the cashewnuts and almonds to a smooth paste. Keep aside.
3 Add the clove and cinnamon stick to the milk and bring to a boil. Reduce heat and boil the milk for at least 10 mts, stirring it. Add the sugar and stir till its completely dissolved.
4 Add the carrot paste to the milk mixture, combine well and let it cook for 3-4 mts.
5 Add the nuts paste, pala kova and elaichi pwd – combine well. Turn off heat after 2 mts and cool completely. (remove the clove and cinnamon stick from the mixture and discard it)
6 Blend the cooled mixture till you get a smooth consistency.
6 Garnish with toasted almonds slivers or pista. Serve warm or chilled.