Fruit and Nut Shortbread ~ Easy Cookies for Christmas
Fruit and Nut Shortbread
My Christmas baking experience is getting exciting and I love the aroma that fills my home during my baking sessions. My current obsession is shortbread and my most favorite to date are fruit and nut shortbread cookies. The most easy cookies to make – just slice and bake. The good thing about this shortbread recipe is its versatility where you can play around with different flavors and add ons like dried fruits, nuts, zest or espresso. The addition of dried fruits like raisins, dried cranberries and nuts like pistachio or almonds accentuate the classic shortbread flavor and take it to a whole new level. And do you know the best part of this shortbread recipe? It is eggless and you can freeze the unbaked log of shortbread dough and bake in a jiffy when friends drop by.
Frozen shortbread cookie dough ~ Sliced cookie dough ready to be baked
The fruit and nut shortbread cookies are light, delicate and buttery with a slight crunch. The shortbread has the right amount of sweetness, subtly spiced with cardamom and a fragrant zing of lemon-y zest. They make for a perfect accompaniment with a cup of tea or coffee or just serve them as a dessert. I highly recommend you bake this classic holiday eggless cookie to gift your family and friends this Christmas.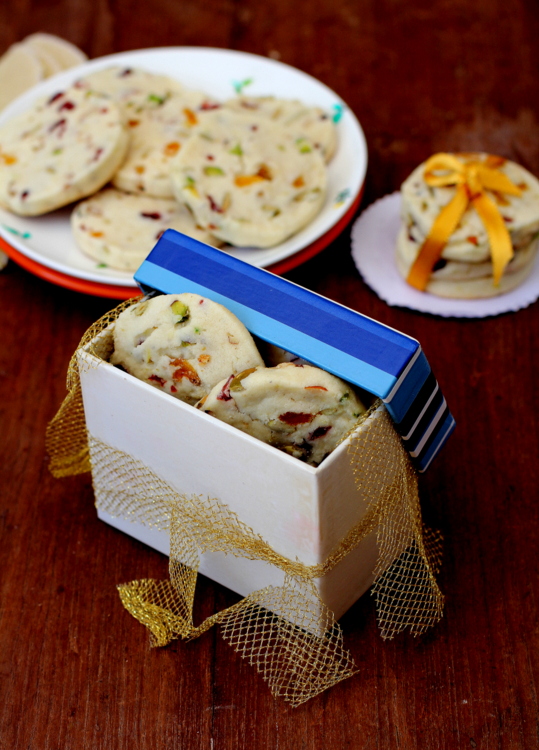 Fruit and Nut Shortbread Cookies