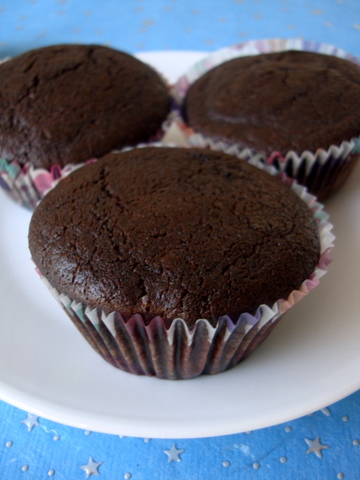 Eggless Chocolate Brownie Cupcakes
Temperature has dropped down drastically since last 48 hours due to Cyclone Laila. Cool weather prompted me to bake some eggless brownies. I more or less followed this eggless chocolate brownies recipe from Chow Times and it didn't disappoint. Rich, with melt-in-the-mouth texture, these brownies are to die for.
Eggless Chocolate Brownie Cupcake Recipe
Preparation: 10 mts, Baking: 30 mts
.
Ingredients:
3/4 cup powdered sugar
1 tsp cornstarch
1/2 tsp baking soda
pinch of salt
1/2 cup unsweetened cocoa powder
1 cup maida
1 cup thick buttermilk
1/4 cup melted butter or vegetable oil
2 tsps instant coffee pwd mixed in a tbsp of hot water
1 tsp vanilla essence
1-2 tbsps toasted chopped nuts (optional)
1 Preheat oven to 175 degrees C. Grease and flour an 8 inch square pan and line with butter paper.
2 In a bowl, sieve maida, cocoa, powdered sugar, cornstarch, baking soda and salt. Keep aside.
3 In another bowl, combine melted butter, buttermilk and coffee mixture. Add the vanilla essence. Mix in the cocoa-flour mix using a wooden spoon until no trace of flour is left. Spread batter into prepared pan.
4 Bake in preheated oven for 28-30 minutes.
5 Cool on a wire rack. Dust with powdered sugar (optional). Cut into squares at room temperature. Serve with a scoop of ice cream.
I spooned a part of the cocoa batter into cupcake liners till three fourth full and baked for 23 mts.