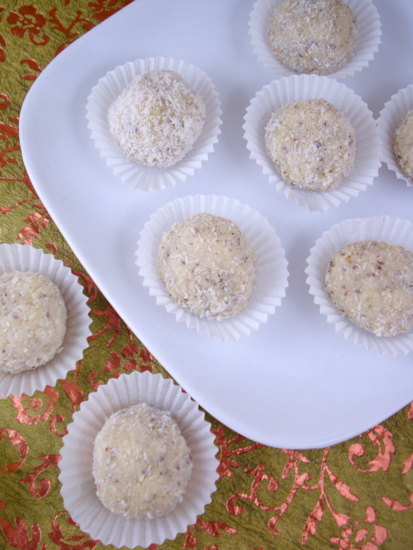 Coconut Laddu
Coconut Ladoo is one of my favorite coconut dessert recipe to date. Just a few ingredients, a few minutes in the kitchen and you are ready for a heavenly experience with soft-on-bite rich coconut sweet. Coconut Laddu make for perfect after meal nibbles or a party dessert.
Coconut works beautifully in sweetened condensed milk. You can also make excellent chocolate truffles with it substituting the cream.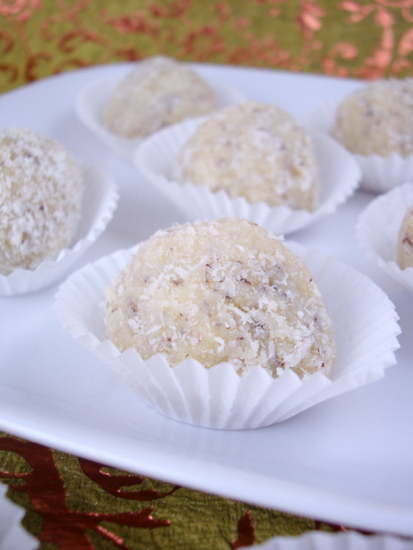 Coconut Laddoo
Even the ones on a diet cannot resist this delicious temptation. Get into your kitchen to make this ridiculously easy to make coconut Ladoos and you won't regret it. 🙂
Coconut Ladoo Recipe
Preparation: 10 mts Cooking Time: 15 mts
Makes approx 16-18 balls
Cuisine: Indian
.
Ingredients:
4 cups grated coconut
1/2 cup dairy milk whitener (I used Nestle brand)
1 tin (400 gms) sweetened condensed milk (I used Nestle brand)
1 tbsp ghee or butter, melted
1/2 tsp cardamom pwd
few tbsps dessicated coconut or dry coconut powder
1 Heat 1/2 tbsp butter or ghee in a heavy bottomed vessel. Add grated fresh coconut and saute for 4 mts on low flame.
2 Add 1/2 cup dairy whitener and a tin of condensed milk and keep stirring constantly (on low flame) till it leaves the sides of the vessel, approx 8-10 mts.
3 Add 1/2 tsp cardamom powder and mix. Turn off heat and cool. Grease you hand, make small coconut ladoo balls and roll in dessicated coconut.
4 Store the coconut ladoo balls iin an air tight container and place in fridge for longer shelf life. At room temperature it stays fresh up to 2-3 days.
Note
:You can add roasted nuts and dry fruits to the coconut ladoo if you want.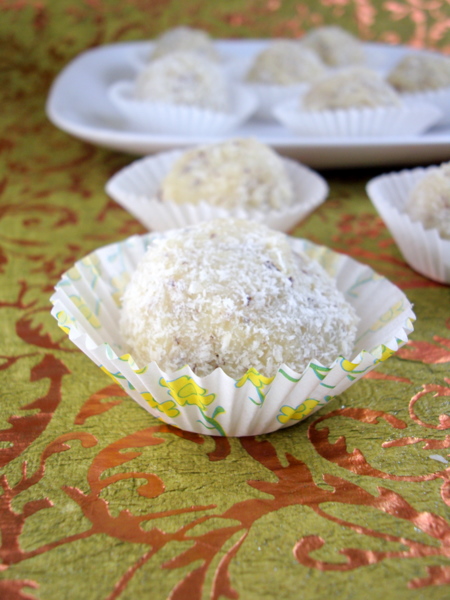 Coconut Ladoo