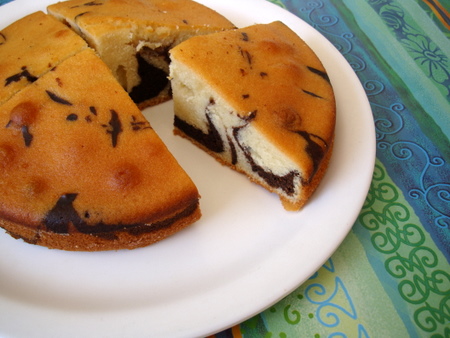 Marble Cake
We are enjoying beautiful weather today, cool, breezy with a light drizzle. It prompted me to bake a simple chocolate marble pound cake. I wanted to experience the aroma of freshly baked cake. 😉 Nothing fancy going on here. Just basic cake making ingredients – flour, butter, sugar, eggs and cocoa powder.
Chocolate Marble Cake Recipe
Preparation: 10 mts, Baking: 45 mts
Recipe Source: My recipe files
.
Ingredients:
2 cups all purpose flour/maida
pinch of salt
1 1/2 tsps baking pwd
1 cup white sugar
1 cup butter
3 eggs
1 tsp vanilla extract
1/4 cup milk
2 tbsps unsweetened cocoa pwd
1 Preheat oven to 170 C. Grease and flour a 9″ round baking pan.
2 Sieve maida, baking pwd and salt in a bowl.
3 In another bowl, combine butter and sugar. Use a hand blender to make a smooth creamy mixture.
4 Add one egg at a time, beating each egg for 1 mt. Add vanilla essence and mix.
5 Using low speed, mix in the flour mixture little by little alternating with milk. Do not overbeat, just mix till flour is combined.
6 Remove a cup of this batter in a bowl and combine cocoa pwd. Mix it and do not over beat.
7 Pour a tbsp of white colored batter into the greased and floured pan. Alternate with a tbsp of cocoa batter. Continue through out till both the batters are finished.
8 Take a knife and swirl it around the batter in a zig zag fashion, 3-4 times.
9 Bake in preheated oven for 45 mts or till a toothpick inserted into the cake comes out clean. If the cake is browning too quickly on the top, remove from oven, cover with an aluminum foil and bake till done. Place on a wire rack to cool for 15 mts. Slice and serve at room temperature.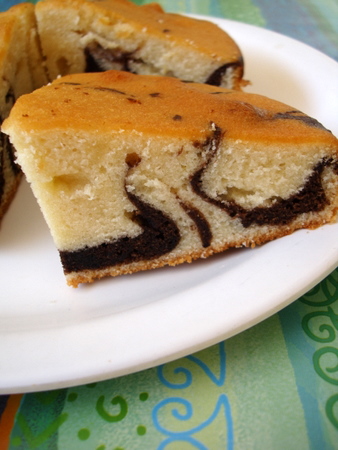 Chocolate Marble Pound Cake
Update: Here's a recipe for Eggless Marble Pound Cake
Sieve 2 tsps baking powder, 1 tsp baking soda, 2 cups maida/all purpose flour and 1 cup milk powder twice. Keep aside. Mix 1/2 cup water, 1/2 cup milk and 1/2 yogurt and keep aside. In a bowl, cream the butter and add 1 tsp vanilla essence and gradually add a cup of powdered sugar little by little and mix well. Next, fold the flour mixture alternating with the wet ingredients (water+milk+yogurt) starting and ending with flour. Do not over beat. Take a cup of this cake batter and fold in 2 tbsps of cocoa pwd. Follow the instructions on how to pour the batter into a greased baking pan from the recipe instructions above. Bake at 170 degrees C for 35-40 mts.