One of my favorite iceberg lettuce and chicken salad recipe. I usually pair this protein rich salad with fresh fruit juice which makes for a filling complete meal. I created it on a whim one day and it has been a regular ever since. Easy to make, rich in texture and flavor.
Lettuce, cucumber, tomato, onion are essential along with chicken OR paneer OR tofu for today's colorful and flavorful salad.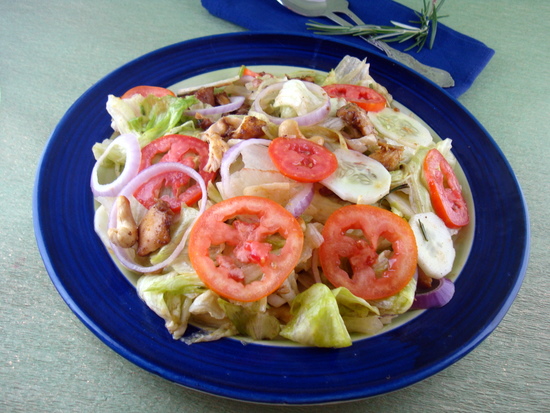 Chicken Salad with Lettuce and Tomato
Slice cucumbers and tomatoes. Cut onions into rings. Tear iceberg lettuce leaves.
Saute 1 cup of boiled boneless chicken pieces in a tbsp olive oil for a few minutes. Add salt, pinch of cumin powder and 1/2 tsp red chili powder. Mix. Add 1/2 tbsp of tomato sauce and mix. Remove from heat and cool.
For dressing: Add 2 tbsps of extra virgin olive oil, salt and black pepper powder as required, a tbsp of lemon juice, 1 tsp brown sugar and 1 1/2 tbsps roasted peanut powder. Whisk.
Layer a bowl with cucumber, tomato and onions, add lettuce leaves and the sauteed chicken and pour the salad dressing over it and toss well. Chill for a while and serve.