Of late, we are incorporating healthy grains like brown rice into our diet on a regular basis. Last Sunday, I made brown rice vegetable pulao and kheema curry. Very unassuming, earthy and wholesome. Though the rice is chewy, its worth the effort keeping in mind the nutrition involved. Those of you who are trying to develop a taste for brown rice, do try this flavorful recipe. Coconut milk would add more flavor to this recipe. The next time I try a one pot meal with brown rice, I intend adding coconut milk.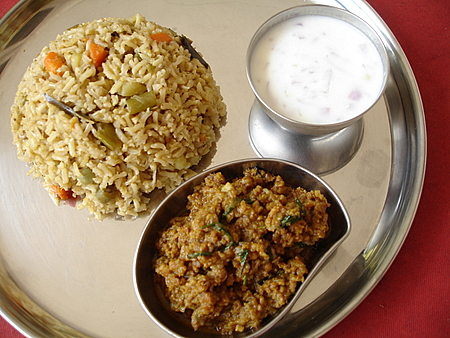 Our lunch ~ Brown rice pulao, Kheema curry & Raita
Brown Rice Pulao Recipe
Prep & Cooking: 40 mts
Serves 4-5 persons
.
Ingredients:
2 cups Basmati brown rice, soak for an hour in warm water
1 large onion, finely sliced
2 cups cubed mixed vegetables (carrots, potatoes, beans, peas)
2 tbsp oil + 1 tbsp ghee
1 tsp ginger garlic paste
few curry leaves
garam masala pwd (3 cloves, 1″ cinnamom, 1 elachi, 1 star anise)
salt to taste
Coarsely crush (do not make a paste):
4-5 tbsps chopped coriander leaves
8-10 chopped pudina leaves
2-3 green chillis
1 Heat oil+ghee in a cooking vessel, add the sliced onions and curry leaves and saute for 5 mts. Add the ginger garlic paste and crushed coriander-pudina-green chillis and saute further for another 5 mts. Add the cubed mixed vegetables and saute for 6-7 mts.
2 Add 4 1/2 cups water and bring to a boil. Add the brown rice, salt and garam masala pwd, reduce heat, cover with lid and cook till the rice is done.
3 Serve hot with raita or any curry of your choice.