Boondi raita is a simple, flavorful, yogurt based side served with paratha or pulao
Boondi raita is a curd aka yogurt based Indian condiment that's served as a side with flavored rice like pulao, jeera rice or aloo paratha. Raita is an integral part of North Indian cuisine and there are numerous raita varieties that are also served as salad. The popular every day raita in most homes across India is onion or onion-tomato raita followed by cucumber raita and boondi raita.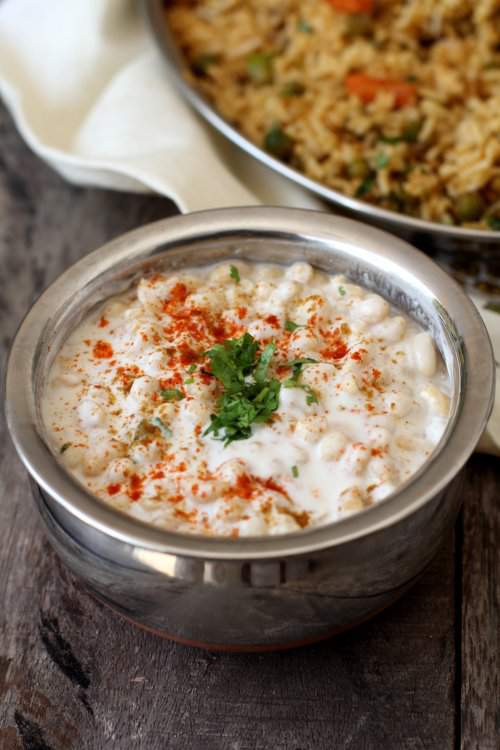 boondi raita
In South Indian cuisine, raita is more popularly known as pachadi which usually calls for a tempering aka tadka of spices like mustards seeds, asafoetida, dry red chilis and fresh curry leaves that is poured over the pachadi just before serving.
Boondi raita is one the easiest and quickest raita recipes one can ever whip up. Boondi is a light, crispy, chick pea flour based snack that is a major component in the making of Indian savory snacks, chaat and sweets. Boondi mixture, South Indian style mixture and boondi laddu are a few items where boondi is the star player. Boondi can be made at home though it is easily available in most departmental stores in India as well as in most Indian grocery stores outside India.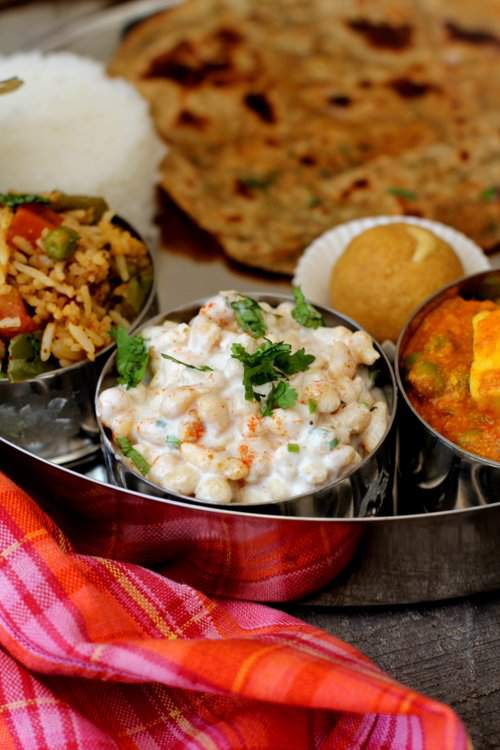 boondi raita with tawa pulao
Usually stores stock spiced boondi or kara boondi that is eaten as a snack with tea. So, while making raita, make sure you use the salted, unflavored plain boondi. Usually, quite a few home cooks soak the crisp boondi in luke warm water so that it softens before being added to the beaten yogurt. I find that the soaking of the boondi in water gives it a bland flavor. So, I add the crisp boondi to the beaten spiced yogurt mixture and chill it for a couple of minutes for the boondi to soften and soak up the flavors.
The key to a perfect tasting raita depends on good quality of curd. Use thick, well set curd or yogurt and if you have a watery curd, drain the curd for a couple of minutes and use it. Dahi boondi raita or any raita can be seasoned with a variety of spices and herbs like roasted cumin or coriander powder, pepper powder, black salt, red chili powder, mint or coriander leaves.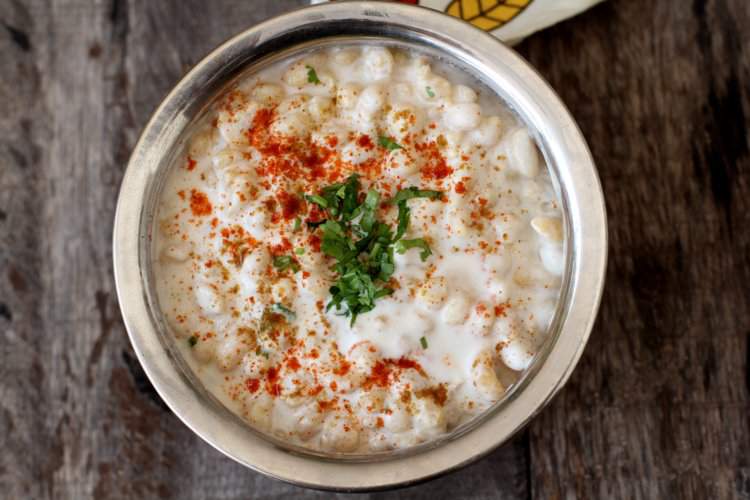 boondi ka raita
This boondi raita makes for a great side dish with North Indian style dishes like parathas and pulaos. I served boondi raita with tawa pulao and masala paratha.
Learn how to make boondi raita