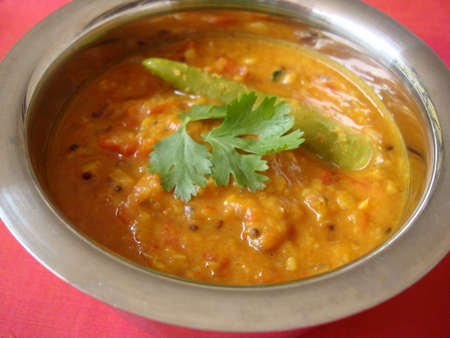 Tomato Pappu mixed with a dollop of ghee and rice with Mango Avakai is a dearly loved combination and an integral part of everyday Andhra vegetarian food culture. Simple, earthy, soulful food! Tur dal aka Kandi Pappu with tomato is a winning combination and the addition of fresh coriander adds a perfect touch.
Tomato Pappu Recipe
Prep & Cooking: 30 mts
Serves 4-5 persons
Cuisine: Andhra
.
Ingredients:
1 cup tur dal (kandi pappu) pressure cook until soft and mash lightly
1 onion finely chopped
2 large tomatoes, finely chopped
3-4 green chillis slit length wise
1″ ginger, finely chopped
1/4 tsp turmeric pwd
For tempering/poppu/tadka:
1 tbsp oil
1/2 tsp mustard seeds
1/2 tsp cumin seeds
3-4 dried red chillis (tear into pieces)
5-6 garlic flakes crushed OR 1/4 tsp asafoetida/hing/inguva
10-12 curry leaves
1 Heat oil in a heavy bottomed vessel, add mustard seeds, let them pop, add the cumin seeds, garlic, red chillis, and curry leaves and saute for few secs. Add the chopped onions, green chilies and ginger and sauté till onions turn slightly pink.
2 Add the chopped tomatoes and stir fry for 4-5 mts. Add the turmeric pwd and salt and combine.
3 Add the cooked and mashed dal to the onion-tomato mixture. Add 1 cup water and cook for another 10 mts on low-medium heat. Garnish with coriander leaves.
4 Serve with white rice or hot rotis.
Note:
Alternately, you can separately pressure cook onions, ginger and green chillis with tur dal and follow rest of the procedure.