Here you will find the articles and press mentions of "Sailu's Kitchen".
1. Sailu's Kitchen featured in Nov 2011 issue of Harper's Bazaar India magazine. Read here and here.
2. My interview with Spark – an online literary magazine. (Nov 2011)
3. Times Online (Times Newspapers Ltd UK) names Sailu's Kitchen as one of the top 10 blogs for the home cook…."Drawn to this blog by my own love of Indian food, Sailu Garu's website is, like the perfect roti, stuffed with good things to eat. She draws recipes not just from her home state of Andhra Pradesh, but from across India. Her enthusiasm and generosity reflects the very nature of this extraordinary country." (link to the full article – 8th Feb 2009)
4. Times of India article ~ Friday supplement ('What's Hot')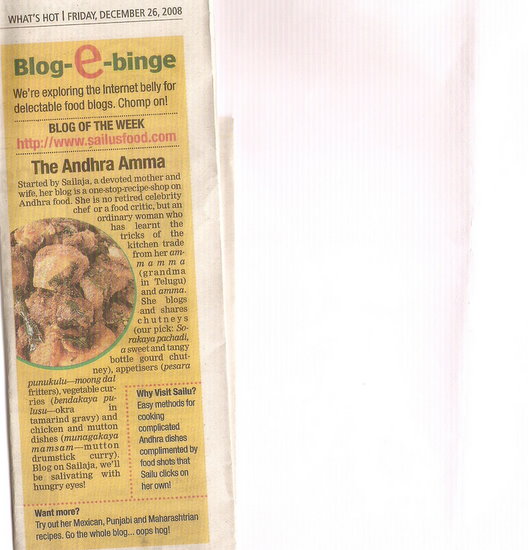 5. My article on Summer Coolers with a South Indian flavor for Marie Clarie magazine (India edition) 2008 May issue.
Summer Coolers for Marie Claire Magazine
Eight summer coolers recipes with images (including recipes done for Marie Claire) have been complied into a document where you can zoom, scroll and print. There is also a downloadable

PDF file.

6. What's Cooking? On the Food Trail.. ~ article featuring 'Sailu's Kitchen' in 'India Abroad' magazine. …"And then, I discovered Weblogs devoted to food. Not only did I find Sailu and her brethren, I took to obsessively checking her site Indian Food & Andhra Recipes as well as Seattle-based Indira Mahanandi, the Saffron Trail, Shilpa of Aayis Recipes, Barbara at Tigers & Strawberries, the amusing husband and wife team Jai and Bee at Jugalbandi and many, many more every week for new recipes." (link to the full article Oct 5th 2007)
7. My article on Ugadi (Telugu New Year) flavors at MetroMela. (April 2007)
8. Hot off the….blog!! ~ article in The Hindu Business Line. (Aug 2006)