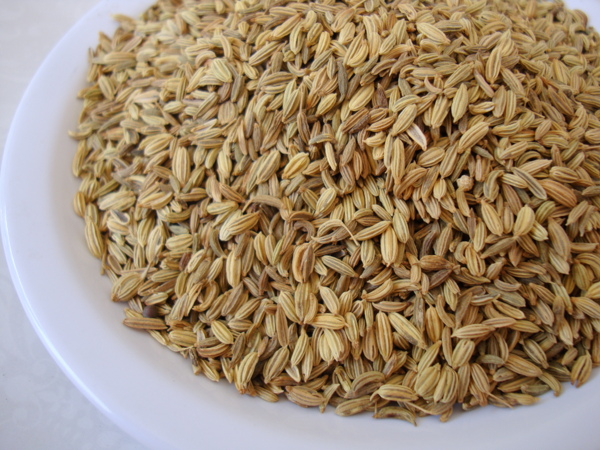 Fennel Seeds – Saunf – Sompu
Fennel seeds or Saunf are the dried seeds of the Fennel plant. In fact, they are the dried fruit of the fennel plant and are aromatic with a sweet taste.
Culinary Uses of Fennel Seeds – Fennel leaves and seeds are used in Indian, Italian, Mediterranean, Arabic and Middle Eastern cuisines. Fennel seeds are widely used in Indian cuisine to flavor curries, chutney and pickles. Saunf is an essential ingredient in the making of Rogan Josh, a Kashmiri meat delicacy. In Bengali cooking, it is an important spice as part of the mix of 5 spices – Panchphoron. Saunf is often used in the tempering aka Tadka of curries and chutneys. It is an essential spice in the making of Thandai, a North Indian summer cooler. Lightly dry roastisng the seeds accentuates the flavor. Fennel seeds and its powdered form are widely used in South Indian cooking too. Fennel seeds are lightly dry roasted, cooled and ground to a fine powder and stored in air tight container. Preparing home made fennel seeds powder is very simple. Lightly dry roast half a cup of fennel seeds on low flame for 7-8 minutes. Cool, grind to a fine powder and store in an airtight container.
Ayurveda and Fennel Seeds – Fennel seeds play an important role in Ancient Indian Medicine, Ayurveda. Fennel seeds are known as Mishi in Ayurveda and have numerous health benefits. In Ayurveda, saunf is considered to be light, non-unctuous, dry (ruksa) and cold. It is appetizer, carminative/purgative, an anti-spasmodic, an anti-emetic and a hepatic herb. It alleviates vata, pitta and ama dosa, promotes strength (Balya). Fennel seeds play a major role in Ayurveda for gas, stomach and respiratory related problems.
Health Benefits of Fennel Seeds – In India, it is common to find people chewing on fennel seeds after a meal. Indian Restaurants serve fennel seeds and mishri or sugar coated saunf after a meal to prevent gas and indigestion. One of the best natural remedies for gas and home remedy for acid reflux is to chew on a few fennel seeds regularly. Saunf helps relieve abdominal cramps, gas, flatulence, bloating and constipation.
It is an aromatic and flavorful herb and works great as a mouth freshener and removes bad breath, provides relief in toothache and gum disease.
Fennel seeds eliminates cold and the inhaling of steam from boiling fennel leaves provides relief in respiratory infections like asthma and bronchitis.
Fennel improves milk production in nursing mothers.
Drinking fennel tea regularly helps in detoxifying body and helps prevents water retention. There are 2 methods to prepare Fennel tea.
How to make Fennel Tea – Coarsely crush 1 1/2 tsps of fennel seeds/saunf in a mixer grinder or a mortal and pestle. Boil a cup of water, add the crushed fennel seeds and place lid. Turn off heat and let the tea steep for 6-7 mts. Strain the fennel tea, add 1/2 tsp of honey or jaggery syrup and drink warm.
Drink two to three cups a day for relief of gastrointestinal issues like bloating, gas and indigestion. If the problem is severe or persistent, visit your doctor.
Another method to prepare fennel tea, Indian style. Bring a cup of water to a boil. Add 1 tsp crushed fennel seeds, 1 tsp of tea leaves (of your choice) and allow to steep for a minute. Add 1/4 cup of milk and bring to a boil. Turn off flame and add jaggery syrup. Strain the fennel tea and serve warm.
As a Coolant – Fennel seeds work as a coolant and is popular in India to drink fennel seed tea as a home remedy to overcome heat during summers. Soak 3 tbsps of fennel seeds/saunf in half a cup of water for 2 hours. Strain the water and grind the seeds along with sugar candy or mishri. Add the strained water to the ground saunf mixture and pass through a sieve. Store the strained fennel seeds water in the refrigerator and serve chilled.
Fennel Seeds and Weight Loss – Fennel seeds are a natural appetite suppressant and help in weight maintenance and weight loss. Fennel seeds help suppress hunger and it has been used since ages during fasting periods.
I have a few non Indian readers asked me 'Where can I buy fennel seeds?' You should be able to find fennel seeds in most Asian grocery stores in the herbs and spices isle. I would advise you to keep at least 100 gms of fresh fennel seeds in your pantry to help you make your own Kitchen Medicine to overcome simple ailments relating to the stomach like gas, flatulence and bloating.
There is a lot of confusion between fennel seeds and anise which are similar in appearance. Foeniculum vulgare is the botanical name of Moti saunf aka Fennel seeds and Pimpinella anisum is the botanical name of Patli saunf or Anise. The thin seeds or Anise are light green in color.
Kindly note that it is advised to consult the doctor before taking any kind of home remedy to treat ailments.