When I prepared Methi Chicken some weeks ago, I also prepared a Tomato rice with coconut to go with it. Posting the rice recipe for all you flavored-rice lovers. Nothing fancy goes into the making of this one pot meal. Just simple ingredients, onions, a few spices, lots of tomatoes, some fresh coconut, and eventually basmati rice and finished off with fresh coriander. It's filling and tastes much more indulgent than it actually is.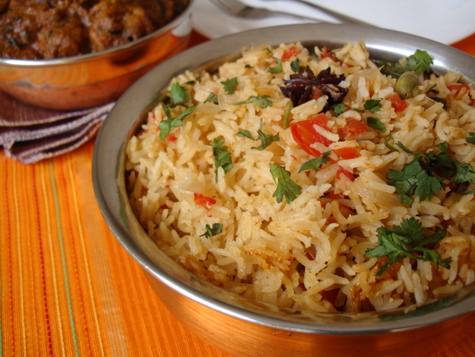 Tomato Coconut Rice
Tomato Coconut Rice
Prep & Cooking: 45 mts
Serves 4-5 persons
.
Ingredients:
1 1/2 cups raw rice
10-12 curry leaves
1 clove
1 cardamom
1″ cinnamon stick
1 star anise
1 large onion, finely sliced
3 ripe tomatoes, finely chopped
1/2 tbsp finely chopped coriander leaves
salt to taste
1 tbsp oil + 1/2 tbsp ghee
Make a paste:
1/2 tbsp coriander seeds, dry roast
1/2 tsp cumin seeds, dry roast
1 tsp saunf, dry roast
4-5 tbsps grated fresh coconut
1″ ginger
5 garlic flakes
3 cloves
1″ cinnamon stick
1 cardamom
1 tbsp chopped coriander leaves
6-7 mint/pudina leaves
1-2 green chillis (adjust)
2 shallots or a small onion
1 Heat oil+ghee in a vessel, add bay leaf, clove, cardamom, star anise and cinnamon and saute for few secs. Add the sliced onions and saute for 4-5 mts. Add the chopped tomatoes and saute for 4 mts.
2 Add the ground paste and fry for 8-10 mts, low flame. Add salt to taste and combine well. Add rice and combine well and saute for a mt.
3 Add 2 3/4 cups of water and bring to a boil. Reduce flame, place lid and cook till rice is done. Garnish with coriander leaves.
4 Serve hot with any curry of your choice or with just pickle and yogurt.