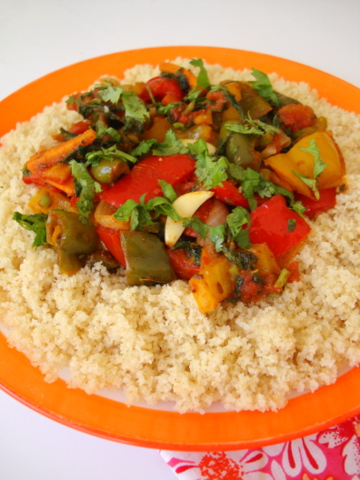 Cracked Wheat with Roasted Vegetables
Cracked wheat aka Dalia is a healthy substitute to rice and works good for recipes that call for bulgur or couscous. High fibre, cracked wheat is nothing but crushed whole wheat kernels. Cook it like you would rice at the ratio of 1:2 i.e 1 cup dalia and 2 cups water. I tried a Mediterranean inspired recipe that calls for couscous and bell peppers. Replaced couscous with dalia and I had a vibrant vegetarian meal bursting with color, flavor and textures. Made for a quick, healthy and tasty vegan meal.
You can add a cup of boiled chickpeas or cubed and cooked boneless chicken to make it protein rich.
Cracked Wheat with Roasted Vegetables Recipe
Prep & Cooking Time: 30 mts
Serves 4 persons
Cuisine: Thai inspired
.
Ingredients:
1 cup, dry roasted dalia/cracked wheat (roast on low flame for 7-8 mts)
1/2 tsp cumin seeds
3/4 tsp saunf/aniseed pwd
1 tsp red chilli pwd or paprika
4 garlic cloves, lightly crushed
1 onion, sliced
1 carrot, julienne
1 red bell pepper, cut into 1″ squares
1 yellow pepper, cut into 1″ squares
1 egglant/baigan or zucchini, cubed
1 tomato, pureed
1 1/2 tsps maida
1 1/2 tbsps olive oil
coriander leaves or parsley for garnish
1 tsp lemon juice (optional)
salt to taste
1 Bring 2 cups of water to a boil, add 1/2 tsp salt and add the washed and drained cracked wheat. Lower flame, place lid and cook till the water is absorbed and its cooked. Once cooked, remove onto a plate and spread to cool. While dalia is cooking, do the preparation work and roast vegetables.
2 Heat oil in a cooking vessel, once oil is hot, add the cumin seeds and allow to splutter. Add crushed garlic and onions and cook for 3 mts, constantly stir frying.
3 Add eggplant and carrot and saute for 8-9 mts. Add bell peppers and stir fry for 3 mts, tossing vegetables constantly lest they burn.
4 Adjust salt, paprika and saunf pwd and combine. Add the flour and combine with the vegetables. Add the tomato puree and cook for another 5 mts. Add half a cup of water and cook for another 8-9 mts or till the water is almost evaporated. Adjust salt.
5 Turn off heat, arrange the cooked dalia on a serving plate and spoon the roasted vegetables onto the dalia and garnish with fresh coriander leaves or parsley and a dash of lemon juice. Serve warm.